Eat
Let's eat! Or some perfectly good reasons to forget packing lunch or dinner.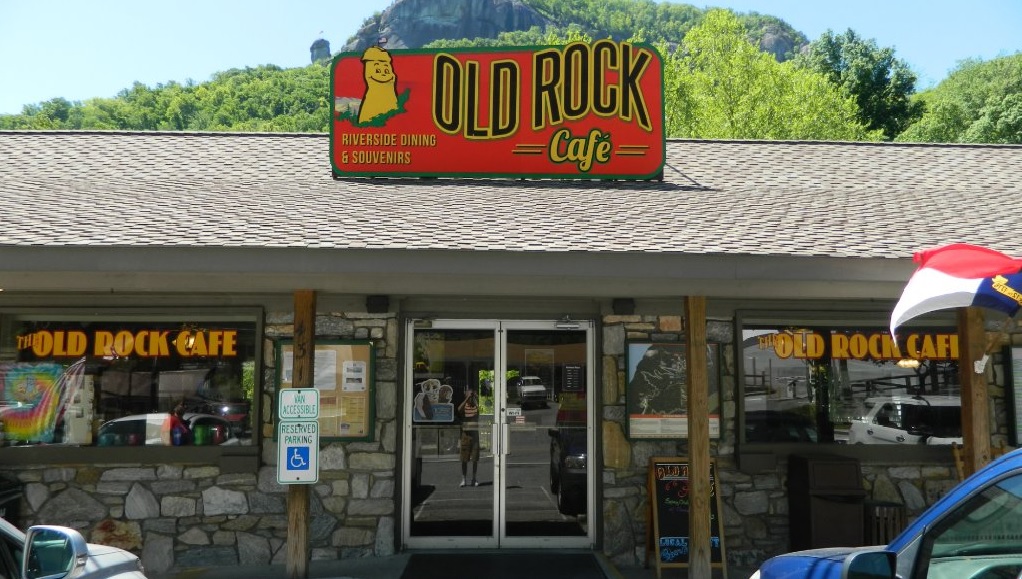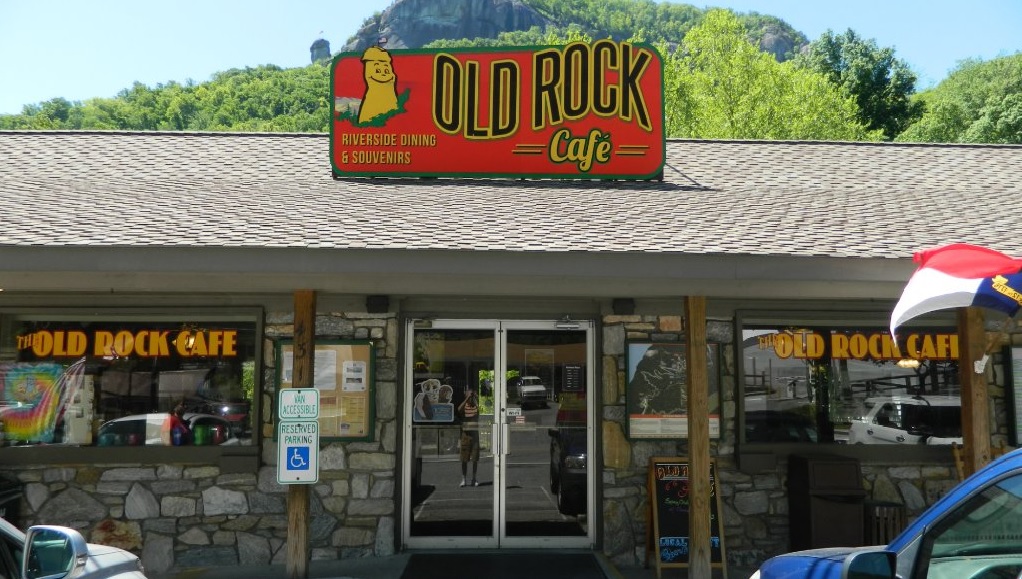 Old Rock Café 
You know those great little places you find on the best road trips? The Old Rock Café is one of them.
We're a local spot next to the entrance of Chimney Rock State Park in Chimney Rock Village. Grab a table on our deck overlooking the Rocky Broad River and enjoy our award-winning  fresh salads and grilled sandwiches, including our 100% grass-fed beef
burger, which has made the list for Zagat's "Must-try Burgers across the Country."
End your meal with our scrumptious signature Apple Brown Betty dessert, served warm with a scoop of vanilla ice cream.
Wash it all down with one of our many regional craft brews. Or, order a Hiker's Lunch to take out on the trails. We proudly serve a growing selection of local foods and beverages. Check out the memorabilia of the "Rock" while you're here for a glimpse of what life was like over the past 100 years.
Follow us on Facebook  for specials and updates. Check out our reviews on TripAdvisor, or write a review about your own recent visit. We're proud that we have received the TripAdvisor Certificate of Excellence for several years running! And Annual Passholders get 15% off food and beverages (excluding alcohol) at the Old Rock. Take a look at our hours of operation.
Questions? Call 828-625-2329 or 800-277-9611.
Catering. For your every whim. (Well, within reason, of course.)
Coming with a group? Be sure to check out our catering options.
Your group's next outing could easily be its most picturesque. Dine at our pavilion on the Meadows featuring a view of the Chimney, or sit on the back deck of the Old Rock Café with the sounds of the Rocky Broad River and a stunning view of the "Rock" and Hickory Nut Falls. Our group sales and catering associates will assist you with a menu and price that is perfect for your group. We are happy to work with you on custom menus.
Vegetarian selections are available upon request. Beer and wine are also available.
A 50% deposit on food service is required at the time the event is contracted. Deposits may be made by check or credit card.
Groups must guarantee the number of meals 5 business days prior to event date. NC health law prohibits food being taken from an event.
Grab your lunch and go. We mean stay.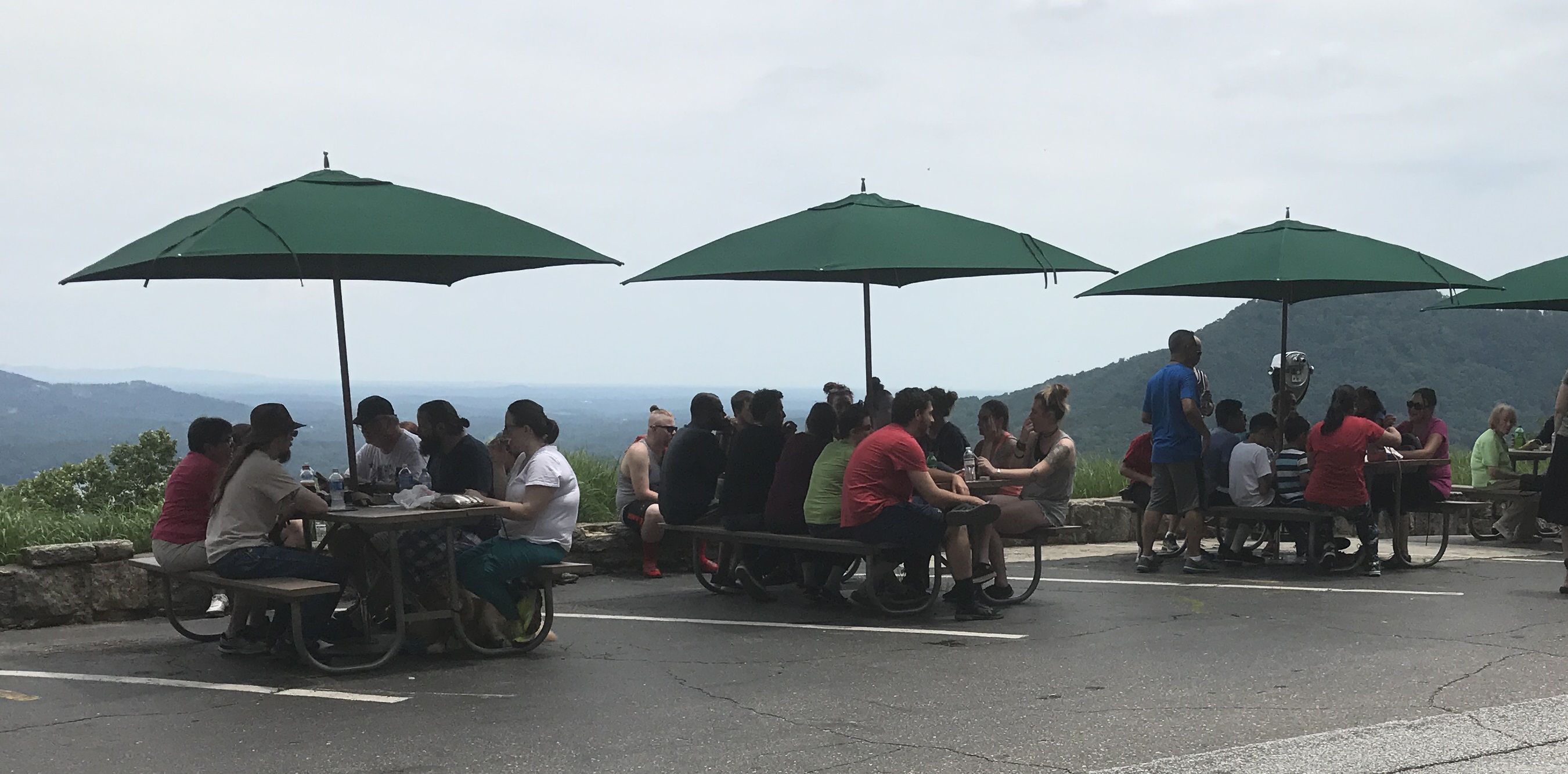 Pre-ordered Hikers' Lunches are available for groups through the Old Rock Café. Enjoy your lunch on the trail at one of our picnic spots or take them with you on the bus.
Hiker's Lunch
Your choice of deli-style ham and cheese, turkey and cheese or veggie sandwich with bagged chips, fruit, dessert and bottled water.
Li'l Hiker's Lunch
Your choice of deli-style ham and cheese, turkey and cheese, or veggie sandwich with chips and bottled water.