Elevator
Elevate Your Visit.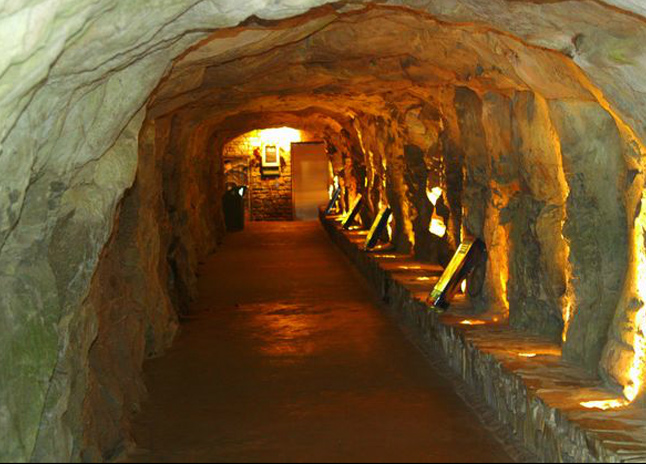 The elevator provides easy access to the top for folks of all ages.
Unfortunately, dogs are not allowed in the elevator because it leads to a food service area (state health law). Service animals are permitted.
Because of the number of trips this elevator takes on a daily basis, occasional preventative maintenance is scheduled. If you require the use of the elevator to enjoy your visit, please be sure to check to confirm that it is in operation before you come.
In 1946, plans were drawn up for an Otis elevator to be installed to transport guests from the parking lot to the Sky Lounge, a gift shop situated near the Chimney. Carved out of the solid rock, a 198-foot tunnel led into the mountain to a 258-foot elevator shaft. This massive construction project took eight tons of dynamite and 18 months to complete. The elevator was officially opened to the public in May 1949.
It has been continually serviced and updated over the years, but the time had come for a complete redo. Fortunately, the Park's new owner, the State of NC, was dedicated to continuing to provide this unique access. In late 2010, the elevator was closed to the public for renovation. Eighteen months later, in June 2012, the 26-story elevator was put back in service much to the delight of the State, Chimney Rock Management and our many partners and guests. A dedication ceremony for it and impressive new trail structures was held at the end of the month to celebrate these achievements.
Unfortunately, due to power issues, the new elevator was not dependable, so the State and our management team decided to cease operating it until the problem was remedied.  In late June 2014, we thought we were there, and the elevator was reopened again. Just when we thought the problems were solved, the SmartRise elevator started to act up again. After several starts and stops throughout 2015, the decision was made to close the elevator until a permanent solution could be found.  The answer then seemed easy.  On June 30, 2017, an air crane was used to remove the Smartrise controller and place the new Otis Elevator equipment in the penthouse for the upgrade.
It wasn't until May of 2018 that work was completed, and the new Otis elevator was turned back over to NC State Parks. It was opened to the public in late June 2018 and has been successfully operating ever since. It conveniently allows all guests easy access to the top of the Chimney and its spectacular views.
View our trail map