Car and Motorcycle Clubs
Hey, car and motorcycle clubs! Point your GPS to the best of WNC in one place.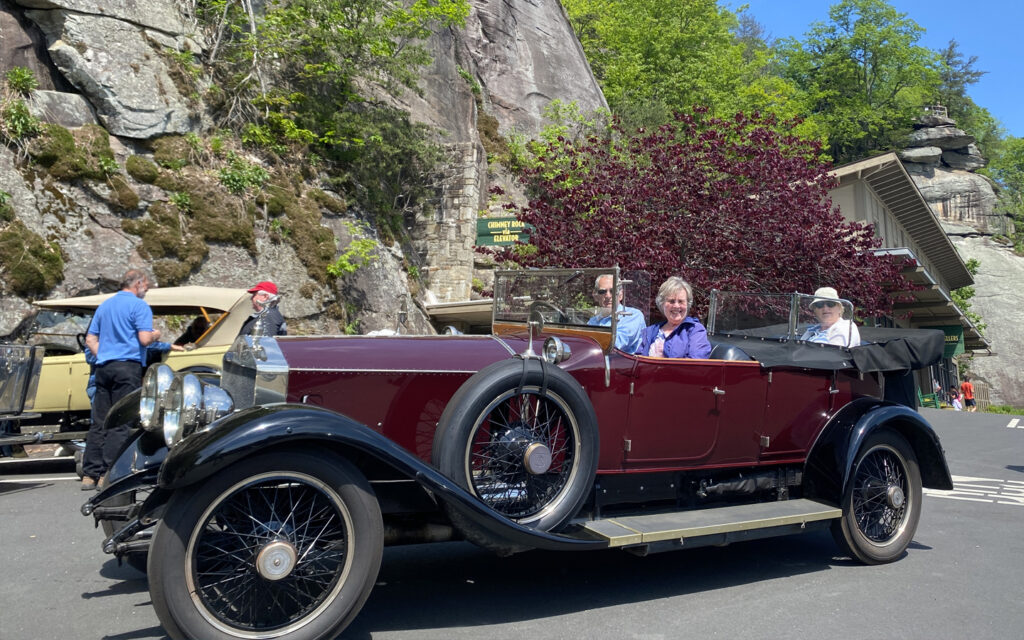 Corvettes, Jaguars, BMWs, Harleys—your car or cycle club will enjoy traveling the scenic byways that lead to Chimney Rock at Chimney Rock State Park, just 25 miles southeast of Asheville, NC. Getting here is half the fun. As many of you know, the Park was home to the Chimney Rock Hill climb, a Sports Car Club of America-sanctioned event for 50 races between 1956 and 1996. Follow in the tracks of decades of car enthusiasts as you drive the winding, three-mile road into the Park.
Spend two hours or an entire day with us. Our five-acre Meadows is the perfect spot to showcase your cars and take group photos. Choose from a variety of fun activities and a full range of catering options.
Come and experience the camaraderie and the thrill of driving your vehicles in Chimney Rock – The Best of the Mountains in One Place.
Meadows Area
Our five-acre field located halfway up the mountain is ideal for parking your cars together while you enjoy your day at Chimney Rock. We'll reserve your space—perfect for taking group photos for your newsletter and website. A shuttle will take your group up and down the mountain throughout the day. Our covered pavilion or tents are available for registration or for a catered breakfast, lunch or dinner. Additional facilities include our Classroom and rest rooms.
Parking Availability
Upper parking lot: approximately 50 cars
Meadows parking lot: approximately 330 cars
Lower Meadows: up to 100 cars
Parking Fees
Group must guarantee number of cars at least 72 hours prior to event with prepayment of the respective non-refundable fees.
Meadows Parking
Reserved parking will be held on the Meadows, a parking crew will be on hand and groups will be shuttled up and down the mountain. Available year-round.
Upper Parking Lot*
Reserved parking on top lot with a parking crew.
*Reserved parking during regular Park hours may limit parking for other guests, in which case we may need to provide a parking crew and additional shuttles for other guests; see shuttle information below.
Shuttles
In the event that additional buses are needed, advance registration/reservation is required.
For more information, contact our Groups and Education office at 828-625-9611, ext. 1837 or groups@chimneyrockpark.com.
View our trail map