Views and Trails
Exclamation Point Trail
The Exclamation Point Trail provides access to some of the best views and most well-known geological formations in the Park.  The trail begins directly across from the stairs leading to the Chimney and traverses through the unique cliff-side habitat. This 20 minute, moderate-to-strenuous hike is mostly uphill and climbs approximately 150 vertical feet. The trail uses a combination of stairs and switchbacks that lead to popular points of interest such as the Opera Box, Devil's Head and Exclamation Point.
Opera Box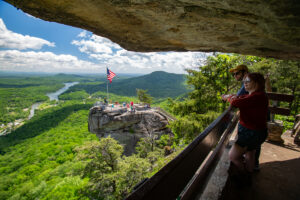 On your way up the trail, just a short distance from the Chimney, catch your breath and enjoy the views of Lake Lure and Hickory Nut Gorge from the Opera Box. Here you are sheltered by a rock overhang that provides a window of panoramic mountain views, while the wind and the birds provide the perfect soundtrack.
As you continue up the trail, you can find picture-perfect views of the Chimney with the American Flag blowing and the glistening waters of Lake Lure in the background.  At this altitude, the cool breeze engages the senses. Lizards scurry across the near-vertical ledges and bonsai-like trees cling to the stone, while birds soar at eye level. It's truly a chance to see the Park from a new perspective.
Devil's Head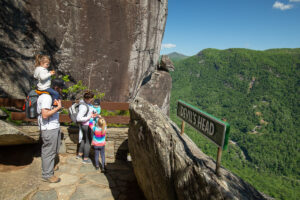 The next major point of interest is the Devil's Head … a menacing looking rock face that peers out over the Hickory Nut Gorge.  This geologic anomaly formed naturally and is a testament to the power of erosion. If you are in the right place at the right time, you may even see a Peregrine Falcon perched on top of the Devil's Head as it searches the skies for its next meal.
Exclamation Point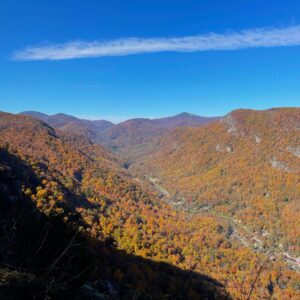 The trail continues to wind up the mountain until you reach Exclamation Point, elevation 2480 feet above sea level.  Here you will be rewarded with sweeping views of the entire Hickory Nut Gorge including Bearwallow, Shumont and Round Top Mountains as well as Rumbling Bald and Lake Lure.  You will be able to see and often hear the Rocky Broad River as it migrates through the gorge to Lake Lure and eventually the Atlantic Ocean. The name of this lookout speaks for itself. It's no wonder that 20th Century Fox chose these views as the backdrop for several scenes in their 1992 release of the movie, The Last of the Mohicans.
Exclamation Point is a perfect place to have a picnic and enjoy a well-deserved rest.  If you decide to continue hiking, the Skyline Trail begins here. If you are ready to head back, it's all downhill from here!
Intermediate