Views and Trails
Exclamation Point Trail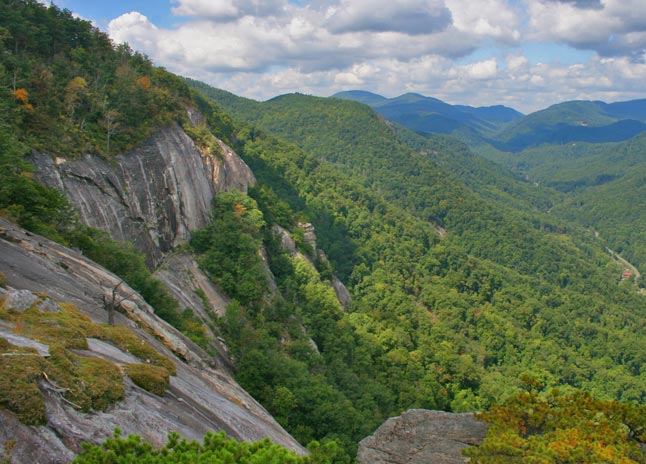 The Exclamation Point trail takes you to the highest peak in the Park, Exclamation Point, at 2,480 feet. This 20-minute, moderate-to-strenuous hike finds you looking down over Chimney Rock and Lake Lure as you start your ascent of the mountain. The trek courses through lush woodland on natural cliffs, up stairs and along switchbacks.
Opera Box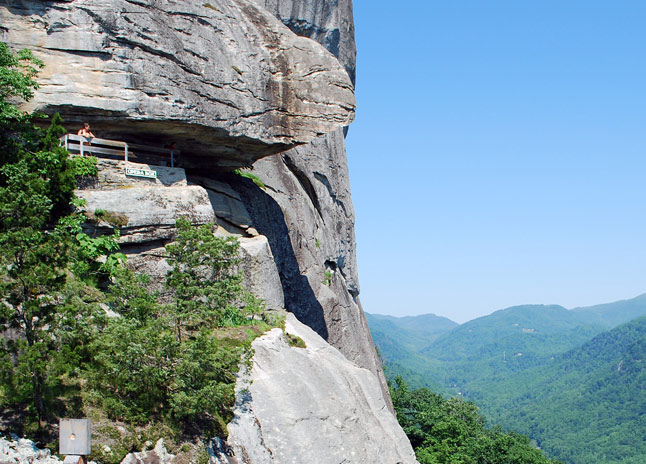 On your way up the trail, just a short distance from the Chimney, catch your breath and enjoy the views of Lake Lure and Hickory Nut Gorge from the Opera Box. When you enter this unique spot, you're covered by a rock overhang with a narrow horizontal opening that presents panoramic scenes of sky, water and trees, while the wind and the birds provide the perfect soundtrack.
Devil's Head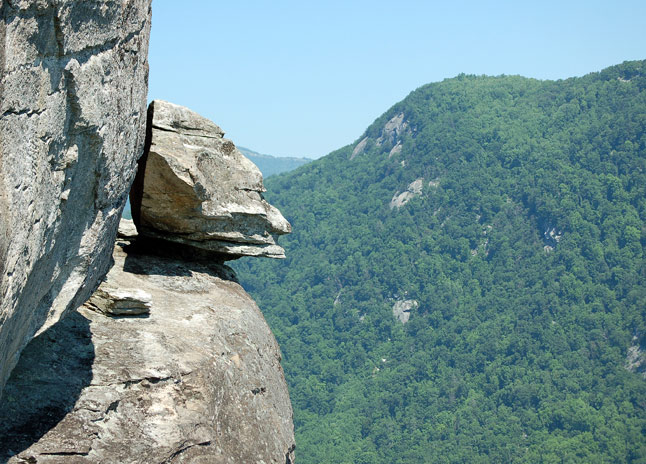 Further up the trail, just above the Chimney, you may notice a menacing rock face peering out over the Gorge. On even closer inspection, it appears to have taken on the countenance of evil incarnate – it's the Devil's Head! How did this rock form itself into such a shape? Although some have a fanciful explanation, we prefer the scientific. A long time ago a huge sheet of rock slid down the mountainside and broke into many pieces, one of which came to rest on this ledge. The facial features of the boulder are due to differential weathering of Henderson Gneiss rock. More resistant parts of the rock form the eyebrow, nose, chin and ear, while softer layers have eroded out, shaping the eye and the mouth.
Exclamation Point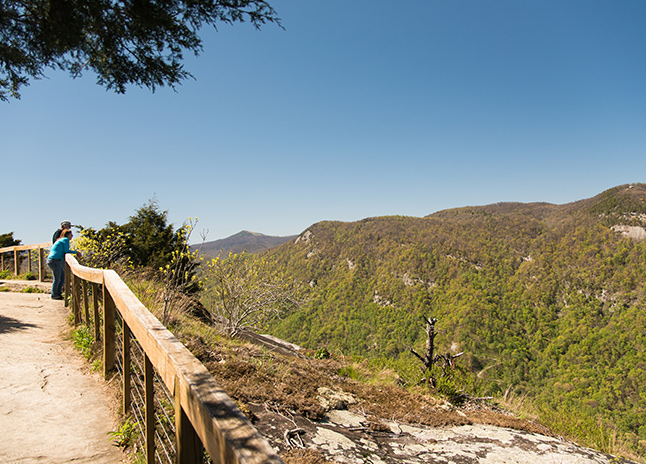 When you reach the top of the Exclamation Point trail, you can exclaim, "I have reached the highest point in Chimney Rock!" Exclamation Point exceeds Chimney Rock's elevation by 200 feet. Standing here, you can feel proud and justifiably weary because you have just driven and hiked over 1,400 vertical feet from the entrance to the Park, which you can see way, way down in the valley. Don't worry — it's all downhill from here. Whew! The dramatic beauty of Hickory Nut Gorge with its breathtaking sheer cliffs makes the jaunt to Exclamation Point well worth the effort. The name of this lookout speaks for itself. It's no wonder that 20th Century Fox chose these views as the backdrop for several scenes in their 1992 release of the movie The Last of the Mohicans.
Intermediate