Views and Trails
Four Seasons Trail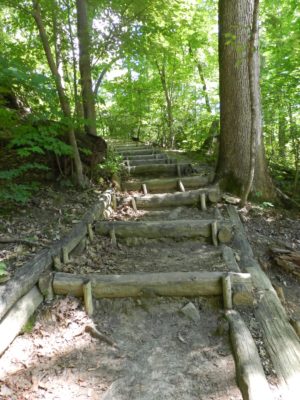 The Four Seasons Trail begins at the edge of the lower parking lot. The trailhead is directly across the main road from the Animal Discovery Den.  This .6-mile moderate-to-strenuous trail climbs nearly 400 feet through a towering deciduous forest and connects with the Hickory Nut Falls Trail.
As the name of this trail suggests, every season of the year has something special to offer the adventurous hiker.
Spring flowers do not disappoint as trilliums, bloodroots and dozens of other wildflowers bloom on the forest floor as Carolina Rhododendrons, Eastern Redbuds and Common Silverbells blossom in the understory.  Dozens of neotropical birds including Warblers, Vireos and Tanagers can be seen and heard as they visit during their migration northward.
Summer visitors experience a lush green cove forest growing amongst the house-sized boulders as the trail winds through a cathedral of giant oaks, hickories, maples, magnolias and poplar trees. Swainson and Hooded warblers nest here and can be heard singing throughout the summer.
Autumn's crisp temperatures provide the perfect hiking weather for enjoying a kaleidoscope of leaf patterns, textures and colors.  Mammals and other wildlife can be especially active as they prepare for the changing seasons. An invigorating hike in the crisp mountain air is a memory that will last a lifetime!
Winter brings a contrasting beauty to the rugged landscape.  With the leafy canopy gone, long-range views can be enjoyed, and visitors can appreciate the grandeur of the Hickory Nut Gorge.
No matter what time of year you visit, The Four Seasons Trail will be worth the hike!
Intermediate

Kid-Friendly