Sustainability
We're into sustainability. We'd like to protect our mountains for generations to come.
 
The Park's sustainability efforts and partnerships with local farms, artists, and small businesses are essential to our environmentally-friendly practices.
Preservation
Hickory Nut Gorge was chosen for a state park due to its natural resource significance and recreational potential. The Gorge is home to 36 rare plant species and 14 rare animal species, making it one of the most significant centers of biodiversity in the state.
Sustainability Initiatives & Local Partnerships.
Learn more about Chimney Rock's conservation efforts and partnerships with local farms, artists and small businesses to reduce our carbon footprint.
Our Mission
To operate Chimney Rock at Chimney Rock State Park to the best of our ability for the state, our guests, our associates and the environment, focusing on outdoor experiences, natural education and exceptional customer service.
Since September of 2013, the Park has been recognized as a NC GreenTravel property for it's environmentally-friendly practices. "Chimney Rock Management LLC, which operates the Chimney Rock component within the larger developing state park under a concession contract with state parks, earned its place among NC GreenTravel locations by installing public recycling containers, using locally-produced food in the park's restaurant, reducing water usage, installing more energy-efficient lighting and appliances, removing invasive plants and increasing public environmental education effort."
"Staff at Chimney Rock Management, LLC and Chimney Rock State Park as a whole have made great strides in recent years when it comes to environmental sustainability," said Lewis Ledford, former Director of the NC Division of Parks and Recreation.
NC State Parks Mission
To conserve and protect representative examples of the natural beauty, ecological features and recreational resources of statewide significance; to provide outdoor recreational opportunities in a safe and healthy environment; and to provide environmental education opportunities that promote stewardship of the state's natural heritage.
Chimney Rock Management, LLC is dedicated to:
– Implementing sustainable practices when possible
– Promoting sustainable practices
– Promoting a greener way of life
– Supporting a more sustainable lifestyle
– Protecting and preserving natural resources
– Protecting and preserving our world for future generations
– Reducing our environmental impact while improving social responsibility
Chimney Rock Management's dedicated Green Team meets regularly to ensure sustainable practices are implemented properly and review additional opportunities to reduce the Park's carbon footprint.
Sustaniabilitiy Initiatives & Priorities

NC Green Travel Certificate of Recognition – Three Dogwood Blossoms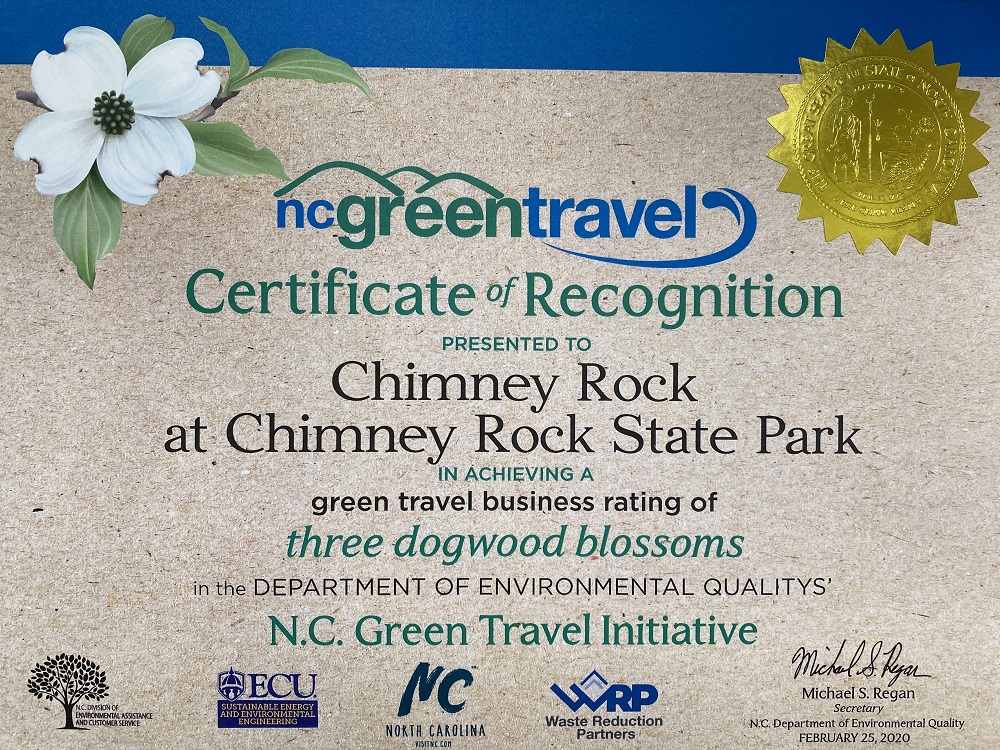 Waste Reduction
– Use eco-friendly products such as biodegradable, renewable-resource cups, straws, to-go boxes, etc.
– Implement and continue to promote Park-wide system to recycle aluminum, plastic, glass, cardboard and office paper
– Annual paper/cardboard recycling: 23,060 pounds and growing
– Annual commingled (aluminum, plastic, glass) recycling: 13,720 pounds and growing
– Use more Green Seal Certified cleaning products, including glass cleaner, disinfectant, etc.
– Oil from fryers is available for reuse (Old Rock Café)
– Reuse trail maps returned in good condition
Energy Efficiency
– Installed No Idling signs in parking areas to encourage buses and cars to reduce air pollution and conserve fuel
– Promote carpooling among staff (commuting and in the Park)
– Replaced lights throughout the Park with CFLs
– Proper disposal of fluorescent bulbs and batteries
Invasive Plants
– Implementing landscape plan with State Parks to eradicate exotic invasive species (goals outlined in the CHRO Natural Resource Plan)
– Removed invasive plants from entrance and added Southeastern native plants, including St. John's Wort, Inkberry Holly, Cumberland Azalea, Button Bush, Coppertina and Mountain Laurel
– Maintaining native species, including Granite Dome Goldenrod and Biltmore Sedge, which are listed as Federal Species of Concern and have limited ranges in North Carolina
Sustainability Studies & Resources
Sustainable Design in Chimney Rock State Park's Master Plan
2009 Park Study by the Center for Sustainable Tourism
Center for Sustainable Tourism at East Carolina University
View our trail map