Join Our Team
Want to work in a spectacular setting with a great group of folks?
Let's talk!
Who are we?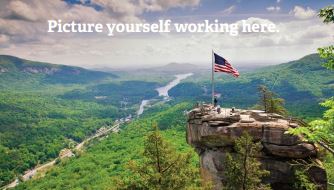 We're a team of hardworking folks who have a passion for the great outdoors and don't mind having some fun along the way. We happen to think we work in one of the most beautiful places in the world, and we're excited about sharing it with our guests. We don't limit ourselves to our job descriptions: it's not unusual to see our General Manager cleaning or one of our retail associates going out of their way to find someone's lost camera. We love coming to work every day, and it shows.
Who are you?
Do you enjoy meeting folks from all over the world? Do you embrace change? Are you a solution-seeker? Do you work well on a team? Are you enthusiastic about pitching in wherever you're needed? Do you like being treated with respect and rewarded for hard work? (If you answered "no" to that one, we're a little worried about you!)
If you identify with our vision and would like to be a part of the Chimney Rock family, we'd love to hear from you. Download and fill out the application here to start the conversation. Once you have finished, email your application to darlab@chimneyrockpark.com.
***JOB FAIR – February 11th from 12 – 2pm at Chimney Rock State Park/Meadows Classroom***
2020 CRMLLC Seasonal Job Openings
*Seasonal positions generally run between March and November many will average 32-40 hours weekly.
Trail Guide/Naturalist
Join a dedicated team that helps visitors appreciate, understand, and appropriately enjoy the diverse nature of Chimney Rock State Park. Roam park trails and visitor areas, while providing informal interpretation, customer service, trail maintenance and basic emergency response. Spend your day in nature rather than in an office. Support the education department in programming and provide daily animal husbandry for our Park animal ambassadors. Trail or environmental education experience preferred. NCEE or NAI certification a plus.
Retail
Work in retail and find a new sense of purpose, helping us share the unique and stunningly beautiful Chimney Rock State Park with guests from all around the world. Yes, we sell t-shirts, but we also sell fabulous local crafts, area relevant books and quality souvenirs. We welcome thousands of guests who are fascinated by our history and awestruck by our views. Previous retail or customer service experience please.
Maintenance/Guest Services
This is a great fit for someone who likes variety, people and fresh air. Spend the day landscaping, parking cars, and greeting guests. Help us keep the park clean and showcase nature's beauty. Maintenance and landscaping skills a plus. Great work ethic is a must.
Creative Kitchen Cook
What are you looking for in a job? Great hours? A fun, established team? Small town friendliness? Beautiful nature right outside the door? A competitive wage plus tips? If you have proven restaurant skills and this sounds like your kind of place, contact us.
CDL Bus Driver/Guest Services
This position combines customer service and driving picturesque roads in an incredible State Park. Flexible weekly hours average between 16-32. Responsibilities also include assisting with cleaning, parking, and landscaping. We offer a competitive salary and some great perks. Meet some new friends from around the world and put your skills to use in this happy team environment.
Ticketing – People person
Do you like enthusiastically talking to people? If you answered "no" to this question, this isn't the job for you. We're enthusiastic about Chimney Rock State Park and it shows in how we greet guests and share our story with them. Oh yes, we also process ticket sales. If this sounds like you and you have customer service success stories, we'd love to meet you.
Download and fill out the application here to start the conversation. Once you have finished, email your application to darlab@chimneyrockpark.com.
Equal Opportunity Employer