Music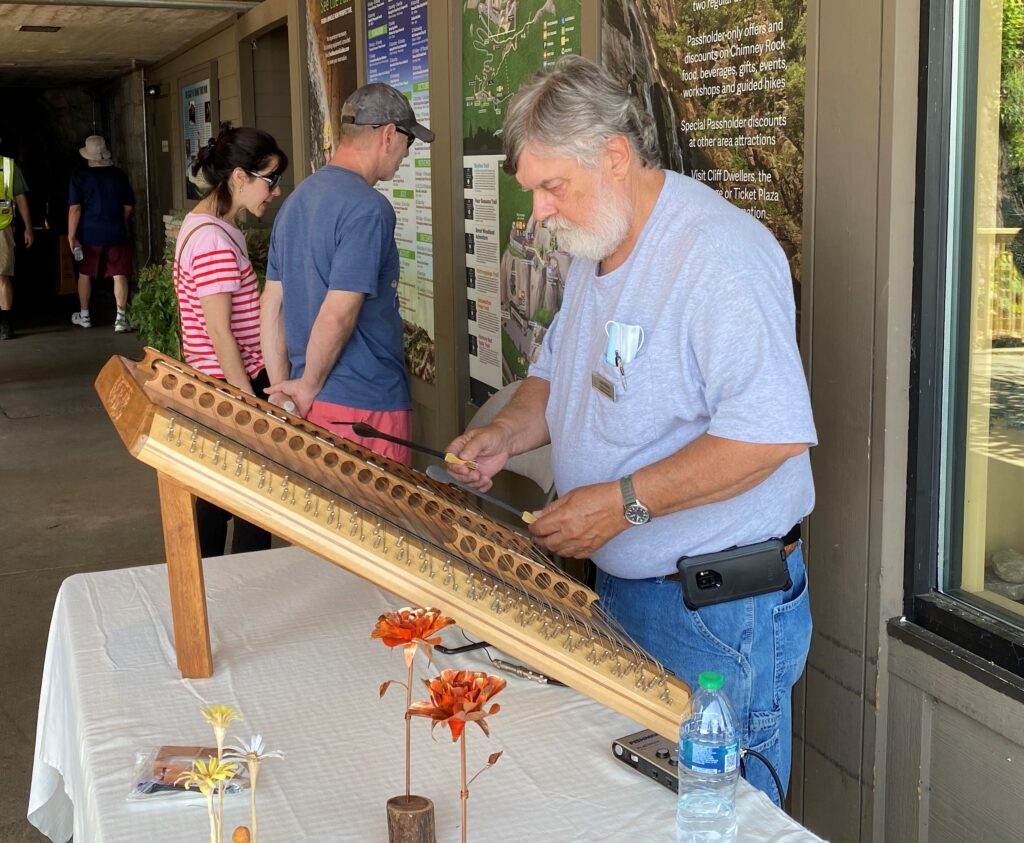 If North Carolina music was made to move you, head in this direction.
Music has always been a vital part of the Appalachian culture, and we honor its significance in many ways here at the Park.
Most sunny days spring through fall, you'll find John playing his hammered dulcimer and entertaining guests with his stories and toe-tappin' tunes under his tent near Cliff Dwellers Gifts.
John has dazzled our auditory senses for years. This self-taught, award-winning recording artist's enthusiasm for the hammered dulcimer began when he first heard the echoing tunes of Jerry Reid Smith.
He was inspired by the instrument's haunting sounds and has been traveling the Southeast playing and perfecting his skill on the dulcimer for over 30 years.
The hammered dulcimer is a trapezoidal stringed instrument played by striking the strings with two hammers (wood sticks). It has been around for many centuries and is a forerunner of the modern-day piano.
John's love of playing has led to nine compact discs that feature his original recordings, traditional early American hymns and British acoustic music, as well as other genres currently in production stages. We are proud to present John Mason, a native North Carolinian and true local artist, as the Park's featured musician.
John Mason's CD Blue Ridge Breezes was archived by the state of North Carolina in April 2014 to become a permanent part of the state's treasure trove of local and regional music by native North Carolinians. John is justifiably proud to be a contributing member to the Audio Visual Holdings in NC State Archives.
When he isn't performing for guests in Chimney Rock at Chimney Rock State Park, John travels his beloved Southeast playing at festivals, crafts fairs and special events from Shelby, NC to Gatlinburg, TN and all points in between. Throughout his career, his expertise and passion for music have grown as deep as the mountain valleys in which he plays.
View our trail map