Views and Trails
Hickory Nut Falls Trail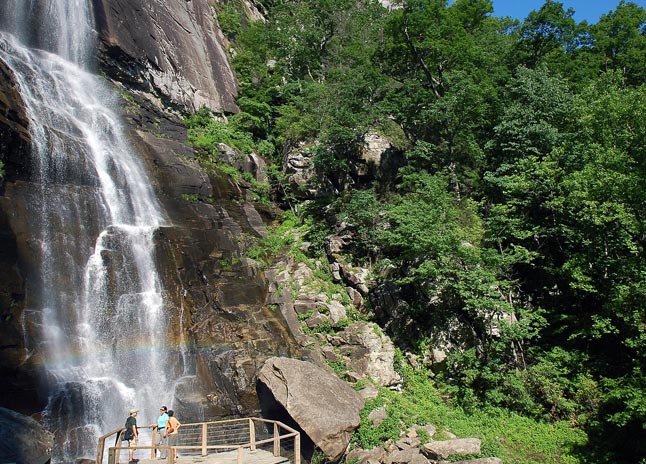 The popular Hickory Nut Falls trail takes you out to a platform at the bottom of our 404-foot waterfall, the second highest of its kind east of the Mississippi River and a backdrop for several scenes in the movie The Last of the Mohicans. It's a cool, refreshing stop and a "must see" during your visit to Chimney Rock.
This 3/4-mile trail offers a leisurely walk that's chock-full of wonder. Hardwood forests of oak, hickory, maple, beech, poplar, locust and basswood harbor abundant plant life, which includes rare and endangered wildflowers as well as old favorites like Jack-in-the-pulpit and Solomon's-seal.
Listen and look for the resident and migrant birds that take cover high above in the forest canopy. Up a few small hills and you're near the grand finale: Hickory Nut Falls, all 404 feet of it! Dainty white blossoms of Lady Rue thrive in the waterfall's mist during the spring and early summer.
Look for fronds of Deerhair Bulrush a grass-like plant with small knobs at the end of shiny, wiry leaves, growing out of the cracks along the rock and cliff wall of the Falls.
Intermediate

Kid-Friendly