Views and Trails
Hickory Nut Falls Trail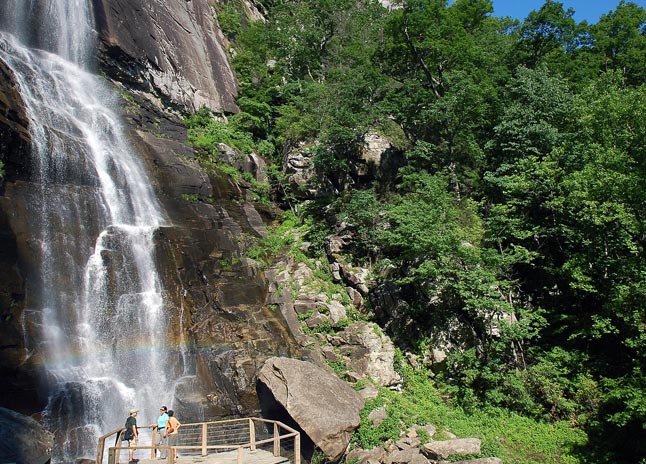 The popular Hickory Nut Falls trail takes you to the bottom of one of the tallest waterfalls east of the Mississippi River. Reward yourself with a magnificent view from the base of this 404-foot natural wonder. It was featured in the epic film, "The Last of the Mohicans." This cool, refreshing stop is a "must see" during your visit to Chimney Rock.
The enchanted path weaves through an eclectic mix of Oak and Hickory trees. It also features some local favorite wildflowers as well as some rare and endangered species. For birdwatchers, be sure to listen and look for the resident and migrant birds that reside high above in the forest canopy.
This moderate hike is 1.4 miles round trip. It is recommended for families with small children; however, we do not suggest strollers or wheelchairs. The trail is gently rolling but has several moderate uphill sections and a small set of stairs at the base of the Falls. Picnic tables, benches, and resting areas are conveniently located throughout the trail offering a great opportunity to catch your breath, relax, and take in the ambiance of Mother Nature. The spectacular view of the waterfall at the end of this trail makes the journey totally worth it.
Intermediate

Kid-Friendly