Views and Trails
Hickory Nut Falls Trail
The popular Hickory Nut Falls trail takes you to the bottom of one of the tallest waterfalls east of the Mississippi River.  Reward yourself with a magnificent view from the base of this 404-foot natural wonder. It was featured in the epic film, "The Last of the Mohicans." This cool, refreshing stop is a "must-see" during your visit to Chimney Rock.
This moderate hike is 1.4 miles round trip. It is an out-and-back hike and takes the average hiker 45 minutes to an hour to complete.  It is recommended for families with small children; however, we do not suggest strollers or wheelchairs. The trail is gently rolling but has several moderate uphill sections, some rocky terrain and a small set of stairs at the base of the Hickory Nut Falls. Picnic tables, benches, and resting areas are conveniently located throughout the trail offering a great opportunity to catch your breath, relax, and take in the ambiance of Mother Nature.  At the base of the falls, you can find a rare and unique ecosystem. The cool and damp rock face provides homes for many rare plants and amphibians. Cooling off in the waterfall mist and taking in the spectacular view at the end of this trail makes the journey totally worth it.
The Hickory Nut Falls Trail winds through a mature deciduous forest with diverse flora and fauna. Throughout the springtime, Black-throated Green Warblers, Scarlet Tanagers and Ravens nest in the canopy and adjacent cliffs.  Rosebay Rhododendrons, Wild Hydrangea and many woodland flowers bloom along the trail throughout the summer. Fall is the perfect time to enjoy the crisp autumn air and witness the leaves as they change to hues of amber, crimson and flame-orange.  The north-facing cliffs and cold winter temperatures provide the perfect arctic conditions for massive ice formations to develop on the towering cliffs. After a cold snap, visitors may be lucky enough to see Hickory Nut Falls frozen from top to bottom. The Hickory Nut Fall Trail is an awe-inspiring hike any time of the year!
** Note:  This is the trail you want to hike if you are interested in seeing and photographing the entire Hickory Nut Falls.  The Skyline Trail that leads to the top headwaters of the Hickory Nut Falls and does not provide any actual view of the waterfall. **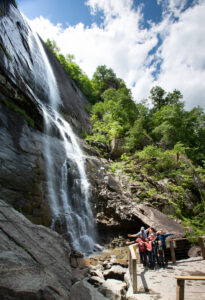 Intermediate

Kid-Friendly