Around the Area
Nearby Attractions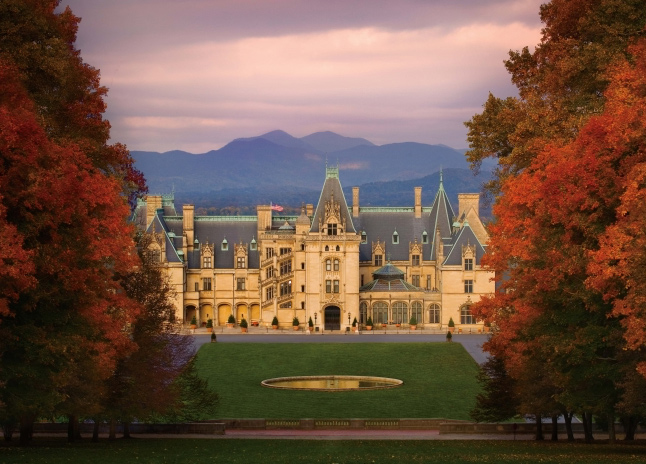 Planning to stick around our area for a few days? After you've visited Chimney Rock, you can round out your trip with visits to these other attractions in the Gorge. To learn about attractions in our region, please visit the Chamber of Commerce links under Western North Carolina.
– – – – – – – – – – – – – – – – – – – – – – – – – – – – – – – – – – –
Biltmore Estate
Offers America's largest home, gardens, winery, outdoor activities, and a four- star inn on 8,000 acres in the Blue Ridge Mountains. Pair a visit to Biltmore with a visit to Chimney Rock for the perfect weekend getaway.
Address: 1 Approach Road Asheville , NC 28803
Drive Time: 30-60 min. Phone: (800) 624-1575
E-mail: happenings@biltmore.com
Web: http://www.biltmore.com
Photo Credit: The Biltmore Company
Broad River Gems and Mining Co.
Mineral Museum area, Jewelry, gemstones and gifts. Rock, mineral and fossil specimens. Meteorites, mounted insects. On-site mining, and fossil dig.
Address: 218 River Landing Rutherfordton, NC 28139
Drive Time: < 30 min.
Phone: (828) 286-1220
E-mail: earl@broadrivergems.com
Web: http://www.broadrivergems.com
Canopy Ridge Farm Zip Line Park
Soar through the trees, gain a new perspective and have a truly unique, exciting experience in nature. The 60-acre zip line park consists of 6 zip lines that are each designed with exhilarating features, including Zip Zilla which is close to 1000 feet long and engineered for speed. Great fun for all ages!
Address: 7115 Hwy 64/74A Lake Lure, NC 28746
Drive Time: 15 min.
Phone: (828) 625-4500
E-mail: info@canopyridgefarm.com
Web: http://www.canopyridgefarm.com
Cedar Creek Stables
Cedar Creek Stables offers trail rides from 1 to 1-1/2 or 2 hrs in length and are safe for all riders ages 6 and up and all riding skill levels from beginner level to expert. All of our rides have creek walks and go through the mountains. We also offer pony rides for children under 6, fishing, picnicking and gem mining.
Address: 542 Cedar Creek Rd. Lake Lure, NC 28746
Drive Time: < 30 min.
Phone: (828) 625-2811
E-mail: hakbarnman@aol.com
Web: http://www.cedarcreekstables.com/
Hickory Nut Gap Farm
A 5th generation family farm with a farm store offering grassfed beef, pasture raised pork, local goods and crafts. Visit year around and in Sept and Oct for additional fall activities such as animals to visit, corn maze, pumpkin patch, trike track, corn box, culvert slides and more!
Address: 57 Sugar Hollow Rd Fairview, NC 28730
Drive Time: < 30 min.
Phone: (828) 628-1027
Web: http://www.hickorynutgapfarm.com
Huck Finn Rafting Adventures
Come experience the power and beauty of the historic French Broad River in Hot Springs, North Carolina. We are a family owned and operated business with over 25 years' experience. Our most important trip isyours.
Address: P. O. Box 336 Hot Springs, NC 28743
Drive Time: 60-90 min.
Phone: (877) 520-4658
E-mail: hfra2005@yahoo.com
Web: http://www.huckfinnrafting.com
KidSenses Children's InterACTIVE Museum
Ignite a spark in a young person's imagination and you light up their mind! TOUCH and TINKER your way through all of the fun within the 12 interactive exhibit galleries. KidSenses' 2 full floors of exhibits include science, art, math, health, and children's literature and so much more. Perfect for families and children ages 0 – 10 years old.
Address: P.O. Box 150 Rutherfordton, NC 28139
Drive Time: 30-60 min.
Phone: (828) 286-2120
E-mail: info@kidsenses.com
Web: http://www.kidsenses.com
Lake Lure Tours
Hidden away among the towering Blue Ridge peaks is a sparkling jewel–Lake Lure, North Carolina. And, it's waiting for you to discover. See the area from a whole new perspective as you tour the lake on a guided pontoon boat ride.
Address: 2930 Memorial Highway Lake Lure, NC 28746
Drive Time: < 30 min.
Phone: (877) 386-4255
E-mail: info@lakelure.com
Web: http://www.lakeluretours.com/
North Carolina Arboretum
The Arboretum focuses on the education, economic development, research, conservation, and garden demonstration with respect to landscape, architecture, and plant sciences.
Address: 100 Frederick Law Olmsted Way Asheville, NC 28806
Drive Time: 30-60 min.
Phone: (828) 665-2492
Web: http://www.ncarboretum.org/
Pack Place
Located in the Heart of Downtown Asheville, this bustling complex includes the Asheville Art Museum, The Colburn Earth Science Museum, The Diana Wortham Theatre, The Health Adventure, and the YMI Cultural Center. Explore Museums and More at Pack Place – the place for everyone!
Address: 2 S. Pack Place Asheville, NC 28801
Drive Time: 30-60 min.
Phone: (828) 257-4500
E-mail: info@packplace.org
Web: http://www.packplace.org
The Cradle of Forestry
The birth place of forestry in America. Our century of conservation dates back to the building of the Biltmore Estate and the reforestation of abused and farmed over land.
Address: 1001 Pisgah Hwy. Pisgah Forest, NC 28768
Drive Time: 30-60 min.
Phone: (800) 660-0671
E-mail: cfaia@citcom.net
Web: http://www.cradleofforestry.com/
Western NC Nature Center
An indoor/outdoor facility designed to serve the conservation community of western NC.
Address: 75 Gashes Creek Road Asheville, NC 28805
Drive Time: 30-60 min.
Phone: (828) 298-5600
E-mail: mtrinks@ashevillenc.gov
Web: http://www.wildwnc.org/