Views and Trails
Outcroppings Trail
After you reach the top, you'll have earned bragging rights for having hiked the "Ultimate Stairmaster."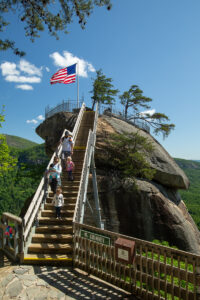 An alternative to the elevator, the upgraded Outcroppings trail will take you up 494 steps to the Chimney with rewarding views and unique features along the way.
Before you begin your hike up, be sure to visit Gneiss Cave, a natural formation that takes its name from the Henderson Gneiss granite, the rock that forms our magnificent namesake, the 535-million-year-old Chimney and surrounding cliffs. ***GNEISS CAVE IS TEMPORARILY CLOSED DUE TO INCREASED BAT ACTIVITY.
After your visit to these features, you're ready to begin your climb to the top! The stairs ascend 315 feet past incredible views of the Park.
On your way, you won't want to miss the Grotto, Subway and Pulpit Rock, popular features that were reopened in the spring of 2015. From these vantage points, you can see views of Hickory Nut Gorge, the Carolina Piedmont and Lake Lure.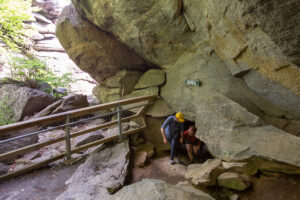 Many folks tell us they feel a real sense of accomplishment after climbing the Outcroppings. Its stairways were rebuilt over two winters (completed in April 2012) with four helicopter airlift operations and zip lines that now offer wider steps and comfortable landings every 12 feet, making the 25-minute trek easier for most. It's a great way to get in some exercise.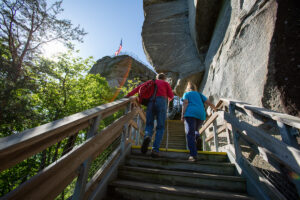 Intermediate

Kid-Friendly