Schools/Student Travel
Bringing Your Students Back to Earth.
Year-Round Programs
Animals of Appalachia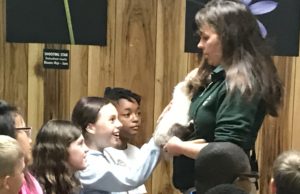 Our most popular program is a favorite for all ages. Get personal with some of our resident animal ambassadors while learning about the wildlife that roams our region. Participants will gain knowledge on habitats, adaptations and animal characteristics during this exciting session.
Time: 45 minutes to 1 hour
Bug Out
Bugs are yuck, right? Wrong! Here at Chimney Rock we love our bugs and all the benefits that come with them. With almost a million species worldwide, like it or not, they share our home. Discover how they play vital roles both locally and throughout the world. To conclude, students will put their knowledge to the test with an interactive game.
Time: 45 minutes to 1 hour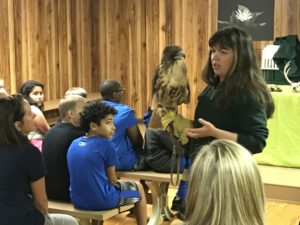 Radical Raptors
Birds of prey have always fascinated us and are the origin of many legends. Realizing the importance of these predators, and sometimes prey, will help you understand the role they play in our ecosystem. Meet a couple of our special animal ambassadors to see the incredible characteristics of these beautiful creatures. The option to include dissection of an owl pellet is available. Ask for details.
Time: 45 minutes to 1 hour
"We really enjoyed all of the stations today and all of the leaders were fantastic! We would definitely like to come back for the same programs next year. Thanks again!"
-Jamie McGinnis, Fourth Grade Teacher, Ellenboro Elementary School
Recycle-O-Rama
Learn why you should recycle, what you can recycle, where it goes after you drop it off and what products are made from your recycled materials. Students will also be able to join in a game called Recycling Relay.
Time: 45 minutes to 1 hour
Rocking Reptiles and Epic Amphibians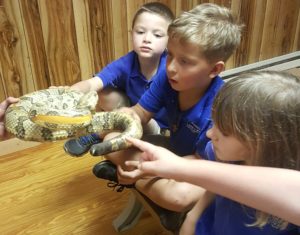 Reptiles and amphibians are often confused for one another, but the differences between these two groups of mysterious animals are vast and intriguing. Your student group will join our team to investigate these fascinating creatures.
Time: 45 minutes to 1 hour
The Need For Trees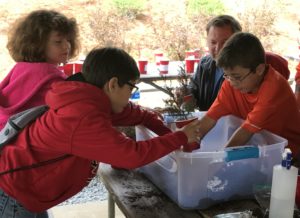 We all know trees are important, but do we totally understand the roles they play in everyday life? Let our Park Specialist lead
your class through an introduction to the life cycle of a tree, basic tree ID and impressive facts about our forest friends. At the end of the program, each student will have the opportunity to get their hands dirty when they take home a small tree to plant.
Time: 45 minutes to 1 hour
The Ramble on Mammals
Many types of mammals call the Southern US and Western North Carolina home. We know mammals are furry, but what other characteristics do they share? This fun program will discuss mammal traits, various habitats and even address some unwarranted bad raps! Don't forget your camera for photos of some of our most popular animal ambassadors.
Time: 45 minutes to 1 hour
Toxins, Tails, Teeth, and Talons
Plants and animals have amazing adaptations that help them to survive in their habitat. Investigate why these specialized traits are so important and how to avoid the ones that can be harmful to humans. This includes a short craft allowing students to turn their new insights into art!
Time: 45 minutes to 1 hour
Tracks and Traces
Animals leave many clues behind that we often overlook. Join our Naturalist to learn more about how bones, fur, scat, rubbings and other subtle clues can identify what animals have crossed right by where you're standing! This interactive program also includes a short walk so students can put their detective skills to the test.
Time: 45 minutes to 1 hour
Whoo Gives a Hoot?
Everyone loves our nocturnal hooting neighbors, but what makes them so awesome? Our Naturalist will teach you all about our native species and what makes them all so very unique. What better way to finish up the program than to dissect an owl pellet and then meet a live owl up-close and personal?
Time: 45 minutes to 1 hour
Junior Ranger Programs 
Explore, learn and help out your state parks! Junior Rangers is a fun way for children to explore with their family, scouts troop or youth group. Activities are geared for children ages 6-12.
Natural Resource Protection. Junior Rangers help park rangers take care of the park's natural resources. Plants, wildlife and clean water are important natural resources.
Environmental Education. Junior Rangers teach their family and friends what they learn about the park and how to take care of it.
Responsible Recreation. Junior Rangers have fun at state parks! They follow park rules to stay safe and so the natural resources are here for the future.
Visit http://www.ncparks.gov/junior-rangers to learn more.
Park Specialists
Education Programs
Join our Park specialists for fun and exciting scheduled programs throughout the year.
Emily Walker, Naturalist and Education Manager
Ron Lance, Naturalist
Ryan Lubbers, Naturalist
Kat Scala, Naturalist
Evelyn Schmidt, Naturalist
Simon Thompson, Ornithologist
John Mason, Park Entertainer
In addition to guided hikes and birdwalks, our specialists provide many types of programs geared to the age and interests of the group. They conduct slide presentations, nature talks and orientation to the Park for groups of all levels that include information on the botany, ecology, wildlife and natural history of the Park.  The programs are designed to meet the special needs of each group.
Contact Us –
Education Visits
We'd love to help you plan your education group outing to Chimney Rock. Please fill in the required fields and include your questions/comments