2017 ENews Construction Feature
Elevator & Other Park Improvements Underway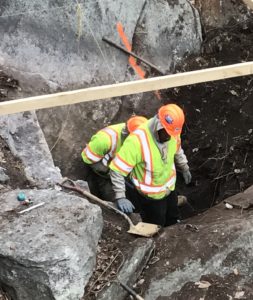 We know you've been wondering what's going on with the elevator. That's why we're excited to share these Park construction updates with you.
Along with the sight of blossoming flowers and newly sprouted leaves on trees, visitors to the Park this year will have the chance to see some of the projects underway to enhance the guest experience.
Electrical upgrades are being made to the Park's elevator. Equipment is being fabricated by Otis Elevator Company and will be installed later this summer.
In addition to elevator repairs, a new route called Crevice Pass is being created. The pass will connect to the Outcroppings trail that leads to the Chimney. Crevice Pass will serve as the main route to the top while the deck near Gneiss Cave is being demolished and replaced. The pass is expected to be completed later this spring.
Foundations for the deck, which will be larger and provide additional space for programs and guests, are currently being placed.
Connector stairs from the top parking area to the Hickory Nut Falls Trail are also being redone. Both the deck and connector are expected to be completed later this year.
You can see the latest construction updates at  chimneyrockpark.com or facebook.com/chimneyrockparknc.