NC State Parks
Chimney Rock and the NC State Parks system. A match made in heaven since 2007.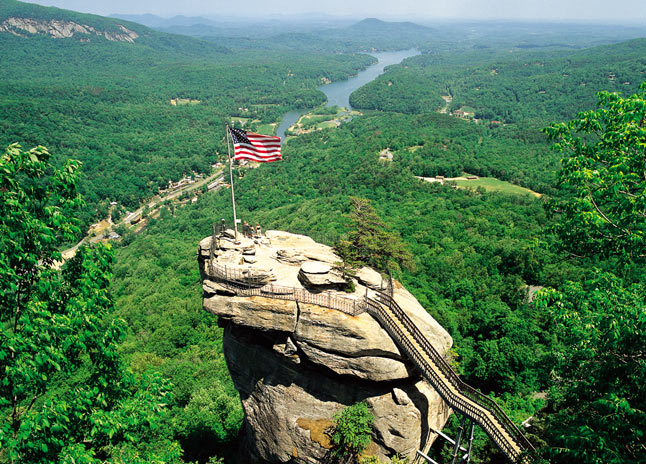 Chimney Rock Park was acquired by NC State Parks in 2007, and our relatively new state park continues to develop all around us. The North Carolina Division of Parks and Recreation has acquired more than 6,800 acres in Hickory Nut Gorge for Chimney Rock State Park.
The area you know as Chimney Rock Park is the focal point of the greater Chimney Rock State Park and is currently one of three areas open to the public. It will continue to be an admission-based area due to its high maintenance and capacity issues. The second area is Rumbling Bald Climbing Access, which has free access, and the third is the free Eagle Rock Access.
In July 2011, Greenways, Inc. released a new Master Plan for Chimney Rock State Park that will serve as a road map for development of recreational amenities.
In December 2011, the N.C. Council of State approved the purchase of an additional 1,222 acres at Rumbling Bald Mountain to expand Chimney Rock State Park by more than 20 percent. The purchase continues a pre-arranged schedule of the state park expansion funded through dedicated sources approved by the General Assembly in 2007. Today park officials are working on a climbing management plan that must strike a proper balance between the need to manage natural resources and the need to provide opportunities for safe, high quality outdoor recreation. When you fill out a permit, you become a valuable resource in this process by letting us know that you value rock climbing, rappelling and bouldering access in the park.
North Carolina State Parks has contracted with Chimney Rock Management, LLC, to operate the Chimney Rock attraction section of the greater Chimney Rock State Park with a unique public-private partnership. Chimney Rock Management is comprised of a group of local individuals, many of whom have worked at the Park since it was privately owned, who are dedicated to continuing the Morse family legacy of stewardship and supporting the State Park mission of conservation, recreation and education.
Check out this recent episode of Park Leaders Show where our Superintendent, James Ledgerwood, and the Chairman of the LLC board, Mary Jaeger-Gale, discuss the partnership!
View our trail map