2021 Events
January

Events Search and Views Navigation
Events List Navigation
Kick-off the new year in Chimney Rock at Chimney Rock State Park during this First Day Hike!
A Park Ranger will open the park gate for hikers to enter between 7:30-8:30am.
During this once a year special opportunity, family groups can stroll up the 3.2-mile entrance road
Usually restricted only to vehicle traffic, there will be no cars in your way if you show up for this special, early morning hike that's free to participants!
Leave your vehicle parked along Main Street, Chimney Rock and enter the park next to the Old Rock Café.
Cross a bridge over the Rocky Broad River that was first traversed by automobiles in 1916, and continue your hike through history until you reach the top.
The Park will provide shuttle transportation back down to your vehicles in Chimney Rock Village by 10:00 a.m.
Hike participants can return to the Park to climb the Chimney and other park trails on the same day at no charge.
State parks across the nation are offering First Day Hikes as a way to promote healthy lifestyles and year-round recreation at America's state parks.
Each year over 720 million people visit America's state parks and contribute $23 billion to the economy.
State parks are a "close to home" resource and an important part of our national fabric, enhancing our quality of life.
We hope this hike inspires you to make state parks a regular part of your exercise routine and your life.
Bring plenty of drinking water, clothing suited to the weather, and wear sturdy hiking shoes.
This hike will be moderately strenuous uphill along a paved surface.
We are still emphasizing the NC Dept. of Health & Human Services 3 W's:
Wear a cloth mask over your nose and mouth in all buildings (required) and on all trails (recommended);
Wait 6 feet apart and avoid close contact with others that are not in your party;
Wash your hands or use hand sanitizer frequently.
In an effort to assist guests in spacing apart, there will not be a start time nor any intro talk this year.
Hikers can begin this adventure in their own time between 7:30-8:30am.
Meet at the Old Rock Café
Hike Length and Difficulty: 
Advance registration is required, and attendance is limited to the first 50 registrants.
To attend, reserve your spot below.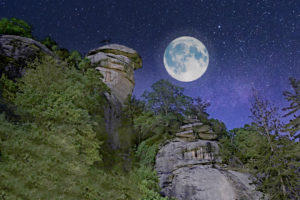 Join professional photographer, Buddy Morrison, for this evening, outdoor workshop that focuses on the beauty of the winter's night sky. This class will discuss and review panoramic shots, types of scenic photography and the equipment needed to make a photo pop. You'll also have the benefit of enjoying the view of Lake Lure and Hickory Nut Gorge after sunset, a rarity that few people have enjoyed.
Workshop attendees are responsible for bringing their own camera and warm clothing for this outdoor, evening photography class. Space is limited and advance registration is required. Book your spot below.

+ Add To Your Calendar