Latest News
Upper Parking Lot Construction Project
In late 2017 and the spring of 2018, the Park received record rainfall and was hit by raucous storms. That's when the retaining wall on the top parking lot fell, diminishing the number of parking spaces.
State contractors have now begun the job of redoing the current top parking lot and restoring and extending the wall to regain most of the parking spots that were lost due to the damage. As you can imagine, that will not be a small task. They anticipate it could take up to six months to complete the project.
In the meantime, there will be no parking on the top of the mountain. All guests will either have to take a shuttle from the Meadows midway into the Park or a robust hike up to the top via the Four Seasons Trail (.7 mi one way) that connects to the Hickory Nut Falls Trail and then on up to the Chimney.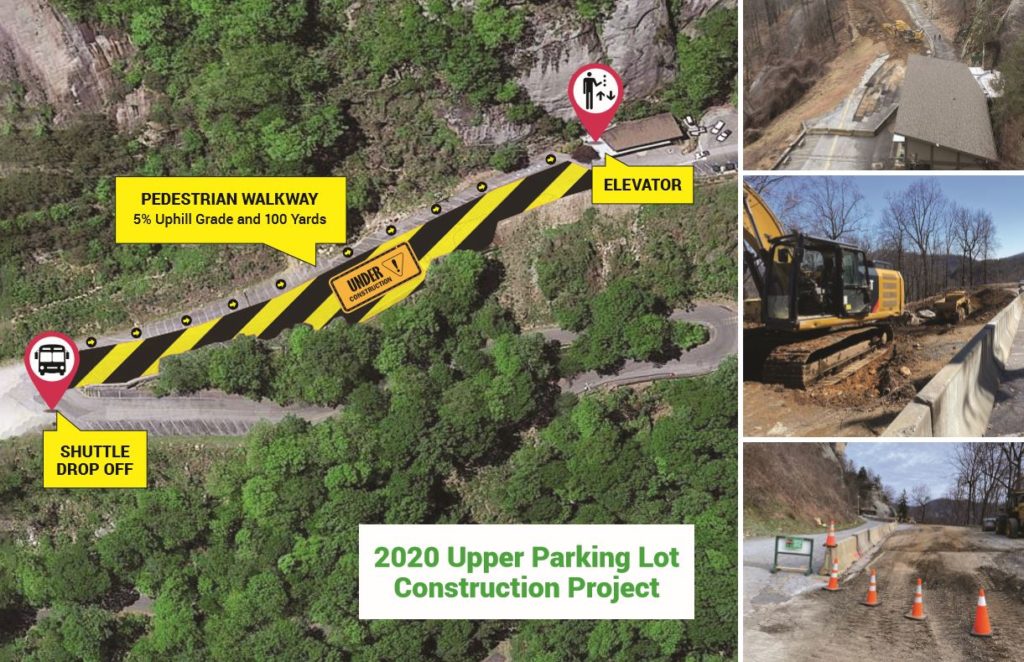 The shuttle will drop guests off about 100 yards from the elevator entrance. If you can board a shuttle bus and walk uphill along a defined walkway from one end of the parking lot to the other, you're good to go. If that's going to be a problem, we may not be able to accommodate you until more space is opened for vehicles to get closer.
Each project that the State has done over these past 12 years has only enhanced the overall access and beauty of the still-expanding Chimney Rock State Park. Come and watch history in the making. The first parking lot was created before the original elevator was installed in 1948. It was then expanded by using the rock that was blasted out of the mountain to create the tunnel and the elevator shaft. When the current job is completed, traffic flow will be greatly improved, and even buses will be able to make the turn and drop guests off at the tunnel entrance.