Spring Homeschool Day
Looking for engaging and educational programs for your student?
Chimney Rock at Chimney Rock State Park welcomes homeschoolers of all ages to experience a day of learning and adventure. Join our team for programs that explore the season of rebirth in Western North Carolina.
Nuts & Bolts
Who: Homeschoolers of all ages
When: Wednesday, April 18, 2018. Check-in by 9:30am; programs begin promptly at 9:45am. Programs are planned to conclude by 12:15pm. Enjoy lunch on your own, either in one of our lovely picnic areas or in Chimney Rock Village, where you can eat at our Old Rock Café or one of several other restaurants. Times of afternoon activities will vary; see below for details.
Spring 2018 Programs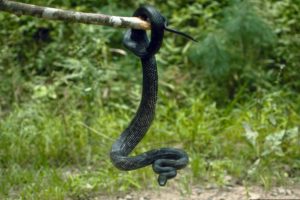 Toxins, Tails, Teeth & Talons
Many native animals have adaptations that help them survive in the wild. Students will be amazed at some of the incredible adaptations of both predators and prey right outside our back doors! A short craft at the end of the lesson will let everyone show off their new knowledge.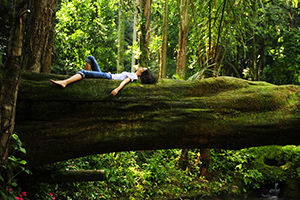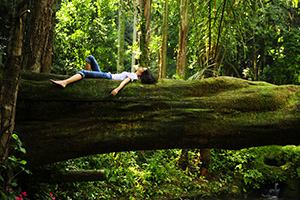 Nature Mindfulness
If you're a fan of apples or peaches then you're a fan of pollinators! A wide variety of species participate in this important process of fertilization.  During this program you'll enjoy learning more about these creatures and how we can help them succeed at their jobs.  Students will put their newly-gained facts to the test in an interactive game!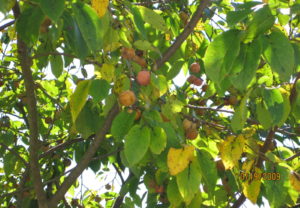 Leaf Lookers Tree ID Hike
You are what you eat! Your class will put the food web into motion during this fun program. First, we'll discuss local habitat, predators, and prey. After everyone has the idea, students will put their knowledge to the test with an interactive game.
Afternoon Adventures
Your admission is good for the entire day, so after lunch make sure to visit the hiking trails, Chimney and Gift Shops for some more fun.
Are your students Chimney Rock State Park Junior Rangers? This spring we will hold a Junior Ranger Program and Service Project at 1pm, so make sure to sign-up when you register. There's no added fee for this optional afternoon activity.
Want to see more of the mountain? Sign-up to join one of our Naturalist for a guided hike on the Hickory Nut Falls Trail at 1pm or 3pm. The later hike is the best option for those who will be doing the Jr Ranger program as well. There is no added fee for the hike but pre-registration is required.
Price & Registration Info
Event costs cover admission to the Park for the entire day, all programs, program supplies and afternoon activities.
$8.50 per Rockin' Discovery Pass Member/$14 per non-member student
No charge for adult Annual Passholders/$13 for non-passholder adults
Register for Spring Homeschool Day here. For questions and concerns please call 828-625-9611.
Registration closes one week prior to event date on Wednesday, April 11, 2018