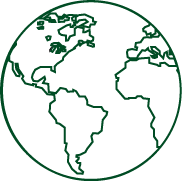 Earth Day
We'll have our 2018 program details up soon, but you can go ahead and reserve your date by emailing education@chimneyrockpark.com. 
Check out what we offered in 2017.
Earth Day became a recognized holiday in the United States in 1970. Each year on April 22, we are reminded of how important it is to take care of our planet. In celebration of this significant day Chimney Rock hosts programs all month long for schools like yours.  Book your date, bring your kids and we'll handle creating the memories.
Programs
It's All Connected
You are what you eat! Your class will put the food web into motion during this fun program. First, we'll discuss local habitat, predators and prey. After everyone has the idea, students will put their knowledge to the test with an interactive game.
The Need for Trees
We all know trees are important, but do we really understand the roles they play in everyday life? Let our Park Specialist lead your class through an introduction to the life cycle of a tree, basic tree ID and impressive facts about our forest friends. At the end of the program, each student will have the opportunity to get their hands dirty when they take home a small tree to plant.
Pollination Station
If you're a fan of apples or peaches, then you're a fan of pollinators! A wide variety of species participate in this important process of fertilization. During this program you'll enjoy learning more about these creatures and how we can help them succeed at their jobs. Students will put those newly gained facts to the test in an interactive game!
Toxins, Tails, Teeth and Talons
Many native plants and animals have adaptations that help them survive in the wild. Your class will be amazed at some of the incredible adaptations of flora and fauna right outside our back doors. Don't forget your camera to capture some up-close encounters with our fascinating neighbors.
Afternoon Options
Depending on the age of your students we would love to arrange some guided hikes after lunch – ask for details when you call to register! If you plan on taking your group up to the Chimney after programs, please coordinate with us when you make your reservation.
Nuts and Bolts
Who: Elementary and Middle School Classes
When: Programs are offered on weekdays throughout the month of April. If you're unable to make it during the month let us know and we'll look for a date that can work for you. Typically, programs begin at 9:30am and conclude by noon for lunch. These times can vary depending on individual school schedules and group size.
Costs: $8.50 per student includes admission for the day plus all programs and materials. One adult chaperone per 10 students is admitted at no cost. Additional adults are $10 each when paid with the group; otherwise, additional adults are $13 each.
Registration: Contact Emily Walker, Education Manager/Park Naturalist, at 828-625-4697 ext. 1 or email ewalker@chimneyrockpark.com to reserve your date.