Fall Color
Fall Color Report for 2019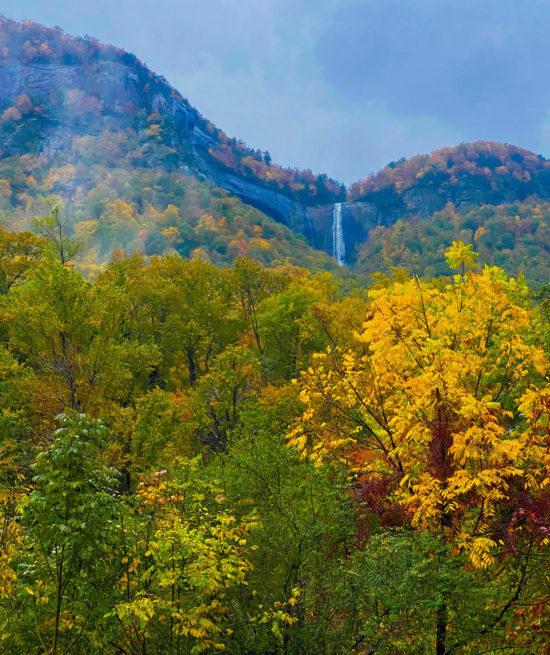 11/4 – 11/10
In terms of fall, the fall color now has shifted to the lowest elevations. The strongest fall color can now be seen at Chimney Rock State Park. The Skyline Trail features nice golds, oranges and reds. The drive up to Chimney Rock from Chimney Rock Village to be quite beautiful. Some trees that have lost leaves and some trees are past their prime for the season. But interestingly, there are also many trees that are still green. But it has certainly looked and felt like fall at Chimney Rock State Park this week.
See Explore Asheville's full report for this week here.
10/28 – 11/3
The fall color has made it to Hickory Nut Gorge and is providing a wonderful visual from any elevation. The roads from Hendersonville, Asheville and Black Mountains still offer a variety of colors including the beautiful gold of our namesake Hickory trees. Once you're in the Park itself color can be found on any of the trails. With the reddening of our Red Maples and dark reddish-brown leaves of the Mountain Magnolias the forest has added even more vibrance this week. With the impending forecast of cooler temperatures, we only expect it to get better for this weekend and next week as leaf peepers explore these lower elevations.
10/21 – 10/27
Traveling to Chimney Rock from Hendersonville, Asheville or Black Mountain won't disappoint those looking for fall color. As you descend into Hickory Nut Gorge from any of these areas you can find beautiful red and orange hues from Sourwoods and Sassafras trees, dark red or purple Dogwoods and the yellows of Birch and Buckeyes along the roadways. The Park road has a great display of understory color as you drive from the front gate up to the top parking area. All of the trails offer a unique option for leaf peeping, but the Chimney, Exclamation Point and Outcroppings trail provide panoramic autumn views. Peak color in our area is forecasted for early November as we watch the weather patterns over the next week.
10/14 – 10/20
The cooler temperatures are starting to encourage color throughout the Hickory Nut Gorge. Traveling from Asheville on 74A, you can find foliage appearances starting from Dogwoods turning deep purple, red leaves of Sourwoods and the common yellow on Tulip Poplars. As you descend there is still a lot of green, but in the under story you can find the beginning signs of fall. At Chimney Rock State Park, the best chances for color can be seen from on the Exclamation Point and Skyline Trails as you climb in elevation and catch views of other peaks in the area. We expect more change over the next few weeks based on forecast.
10/7 – 10/13
Fall is slowly arriving in Hickory Nut Gorge. At the highest elevations we are seeing Tulip Poplar leaves starting to yellow and Dogwoods beginning to show a hint of their autumn color. We expect more change over the next week due to the predicted forecast of cool nights and sunny days later this week. We expect peak color in this area late October – stay tuned!
For detailed Fall Color Report for all of western North Carolina click here.
Please check back for weekly updates or check out our live camera feed from up near the Chimney.