Chimney Rock Sees Regeneration after Wildfire
Chimney Rock Sees Regeneration after Wildfire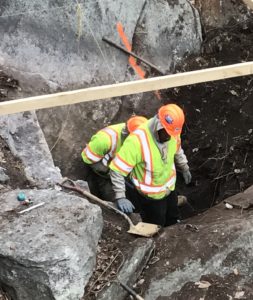 Many of you may wonder how November's Party Rock Wildfire affected the Park.
Flames charred around 7200 acres during the blaze. Luckily, the Chimney Rock section of the Park was never directly affected by the fire, which burnt 2,489 acres of state park land.
Although the Park and areas surrounding it were evacuated for two weeks, we were blessed that no one was severely injured and no structures were lost.
In fact, very few physical signs of the blaze remain on the landscape today. According to a report by North Carolina State Parks, areas affected by the fire will see several benefits over the next few years including larger and stronger trees, since undergrowth was removed from the forest floor.
You and your employees should know that along with the sight of blossoming flowers and newly sprouted leaves on trees, visitors to the Park will have the chance to see some of the projects underway to enhance the guest experience.
Electrical upgrades are being made to the Park's elevator. Equipment is being fabricated by Otis Elevator Company and will be installed later this summer.
In addition to elevator repairs, a new route called Crevice Pass is being created. The pass will connect to the Outcroppings trail that leads to the Chimney. Crevice Pass will serve as the main route to the top while the deck near Gneiss Cave is being demolished and replaced. The pass is expected to be completed later this spring.
Foundations for the deck, which will be larger and provide additional space for programs and guests, are currently being placed.
Connector stairs from the top parking area to the Hickory Nut Falls Trail are also being redone. Both the deck and connector are expected to be completed later this year.
We hope that your team will visit our little slice of heaven soon. Not only does our park offer a variety of outdoor experiences for people of all ages, but the village that surrounds the Park provides an assortment of wonderful little shops and restaurants that are perfect for exploring.
You can find the latest updates on Park construction and information about upcoming events at chimneyrockpark.com or facebook.com/chimneyrockparknc.