2023 Fall Girl Scout Day and Campout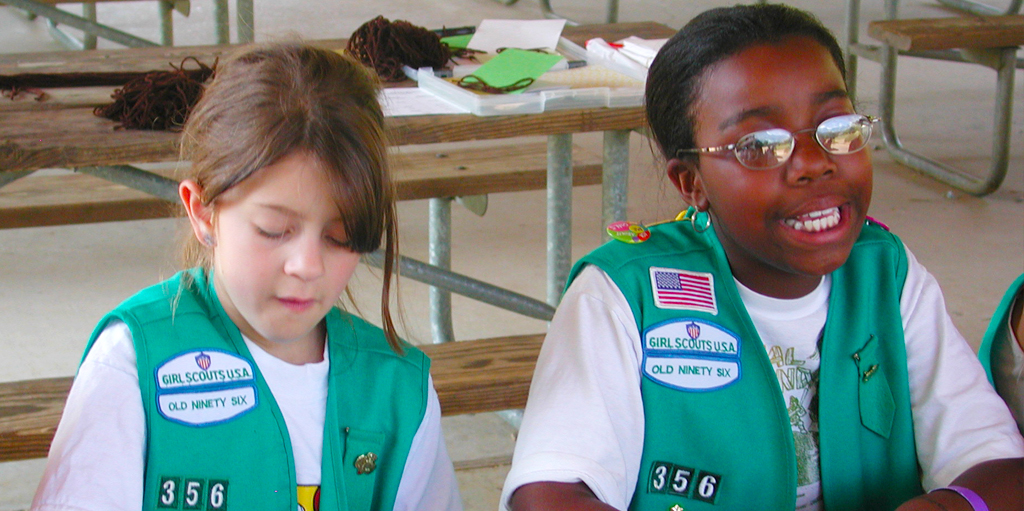 Saturday, September 16 – Sunday, September 17, 2023
Gather your troop, pack your supplies and head out to Chimney Rock for our annual Fall Girl Scout Day. Join us to explore new places, meet new friends and spend the night under the stars during this special event.
Morning Programs
Orientation begins promptly at 9:45am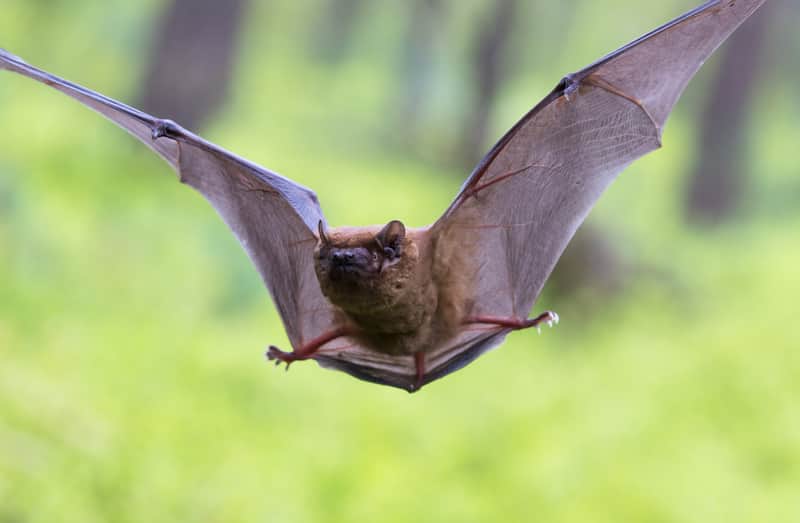 Going Batty
Are bats blind? Do they all drink blood? Join a naturist and do some myth busting about bats. Learn about these misunderstood mammals in a fun and interactive programs. Scouts will explore the secret life of bats and become bats themselves while playing a game of "bat/moth."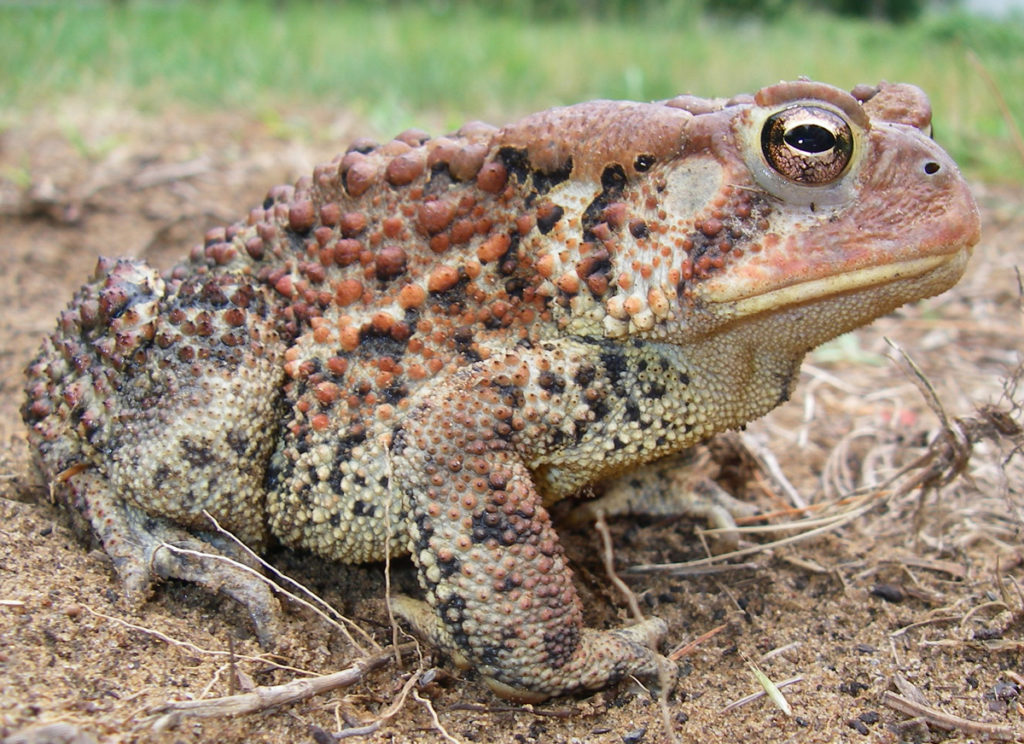 Rockin' Reptiles and Epic Amphibians
Reptiles and amphibians are often confused for one another but the differences between these groups of mysterious animals are vast and intriguing. Scouts will join our team to investigate these fascinating creatures while getting up close and personal with our live animal ambassadors.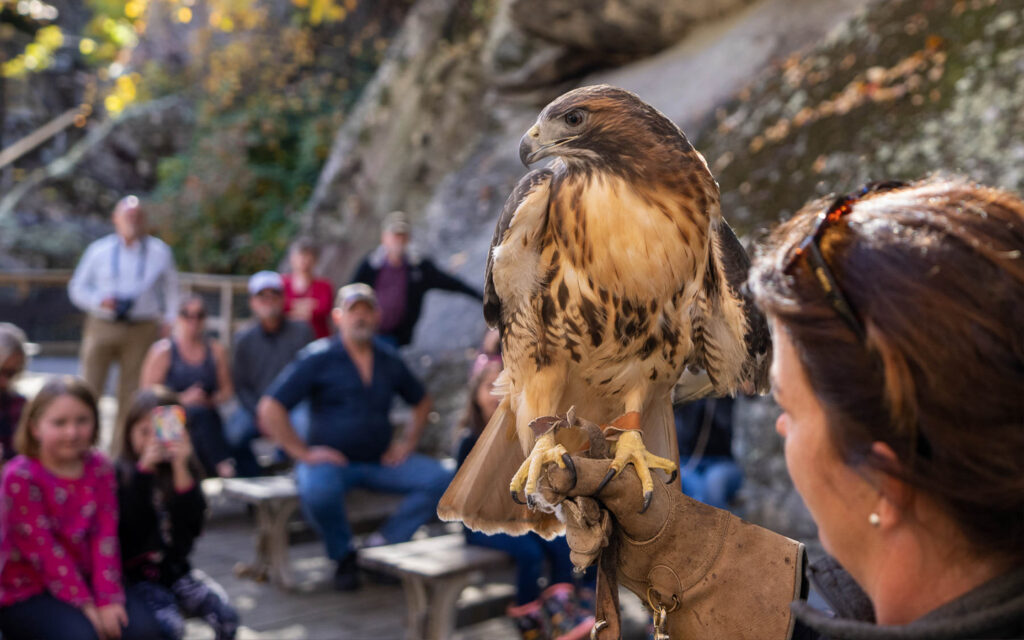 Magical Migration
This fun and interactive program introduces the process of migration and what makes it so magical. Everyone will love learning how species in their own backyard make an incredible journey in order to survive. At the end of the program, Scouts will participate in a game that will really bring the lesson home!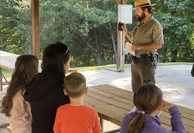 10 Essentials
Ah the great outdoors! Everyone smiles when the sun is shining. It warms our skin as we inhale the sweet smell of the wind that wisps through the vast landscapes that surrounds us. But what happens to the weekend warrior when trouble strikes? What do you carry while you are hiking? Would you have what you need to survive the night? Join a park ranger as we rummage through our gear to determine the top 10 essentials of what to pack when we prepare to venture into the great outdoors!
Afternoon Options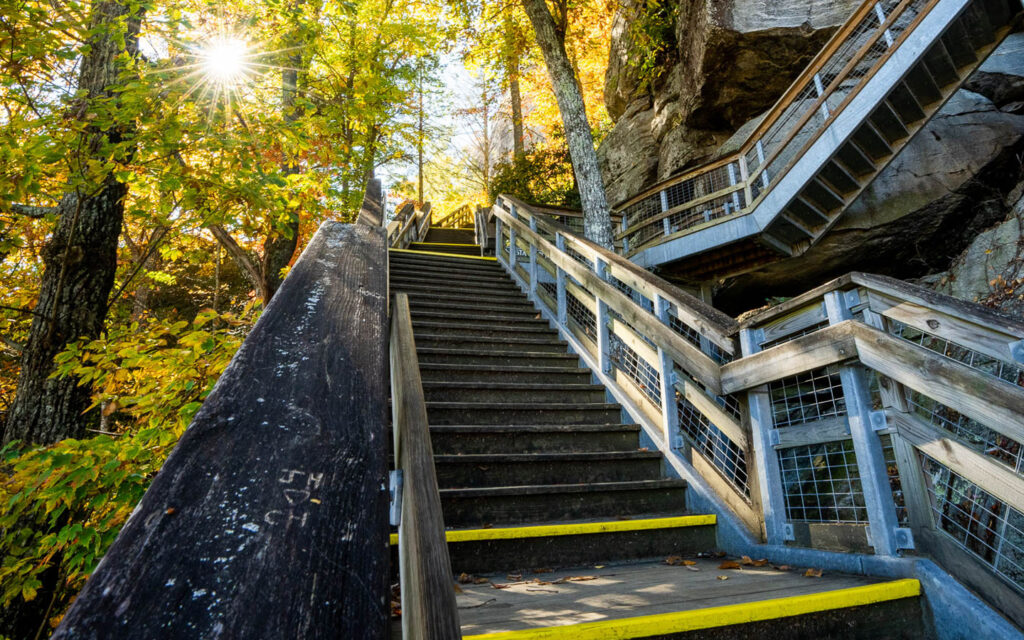 Self-Guided Hikes & Discovery Stations
Hike any of our 6 trails which range in difficulty from easy to moderately strenuous. Ask our knowledgeable staff which trail is the best fit for you. Set up along the trails will be three naturalist-led discovery stations that Scouts can visit while exploring the Park. Each station will have hands-on activities for the Scouts to enjoy.
Campout Option
The overnight option is designed so you can bring your gear and spend the night!
We provide several community fire rings and wood, but all other essentials are the responsibility of the group.
Typically, set-up begins after 4pm. Depending on the volume of the general public in the area, this can fluctuate a bit. You must be packed up by 9am the next morning. However, you're welcome to stay and explore the Park some more on Sunday after your site is broken down.
Park staff is onsite throughout the night.
Nuts and Bolts
When: Saturday, September 16 – Sunday, September 17, 2023
Check-in by 9:30am; orientation begins promptly at 9:45am.
Costs: $16 per scout for admission to the Park for the day, all programs and patches. One adult chaperone per 10 scouts is required and is admitted at no charge.
Additional adults are $14 and additional non-scout children are $6 but must be included in the troop registration and payment.
Camping fee is $8 per camper.
Register your troop here. A non-refundable deposit of $30 per troop is required to register. Registration is open from May 22 to September 5 or when we reach our limit of 150 scouts.