Join Our Team
Want to work in a spectacular setting with a great group of folks?
Let's talk!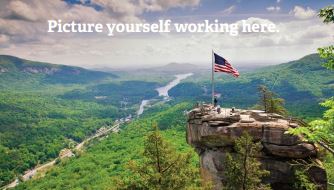 Who are we?
We're a team of hardworking folks who have a passion for the great outdoors and don't mind having some fun along the way. We happen to think we work in one of the most beautiful places in the world, and we're excited about sharing it with our guests. We don't limit ourselves to our job descriptions: it's not unusual to see our General Manager cleaning or one of our retail associates going out of their way to find someone's lost camera. We love coming to work every day, and it shows.
Who are you?
Do you enjoy meeting folks from all over the world? Do you embrace change? Are you a solution-seeker? Do you work well on a team? Are you enthusiastic about pitching in wherever you're needed? Do you like being treated with respect and rewarded for hard work? (If you answered "no" to that one, we're a little worried about you!)
If you identify with our vision and would like to be a part of the Chimney Rock family, we'd love to hear from you.
***Thanks for your interest in employment with Chimney Rock at Chimney Rock State Park. We currently have no open jobs available at this time. Please check back again soon.***
Download and fill out the application here to start the conversation. Once you have finished, email your application to darlab@chimneyrockpark.com.
Equal Opportunity Employer