Fall Girl Scout Day
2018 Fall Girl Scout Day and Campout.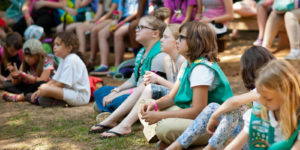 For years, Girl Scouts of all ages have enjoyed their own special days at Chimney Rock at Chimney Rock State Park. Our nearly 1,000 acres make an incredible backdrop for a variety of programs that are educational and fun.
Due to weather-related issues, our spring event was cut short. Therefore, we are excited to announce that we are adding an optional campout to the event this fall. So, bring your gear and enjoy the rare opportunity to camp beneath the stars in one of North Carolina's most iconic parks
Nuts & Bolts
Who: Girl Scouts of all ages are welcome.
When: Saturday-Sunday, November 10 & 11, 2018. Check-in at 9:30am. Orientation begins PROMPTLY at 9:45am. Programs are planned to conclude by 12:15pm for lunch. Lunch is on your own and time for afternoon activities vary (see below). If you're camping, set-up will begin at 4pm. Everyone must be packed up by 8:30am the next morning, but you're welcome to stay and hike once we are open to the public.
Programs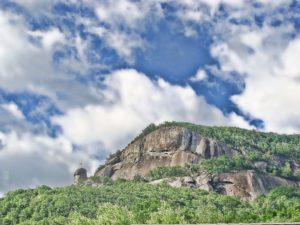 Earth's Formation
What better place to learn about how our landscapes were created than in Chimney Rock State Park and Hickory Nut Gorge? Join educators from Hands On! Children's Museum to travel back in time to learn about the effects of erosion, and how mountains, caves, and fossils are formed.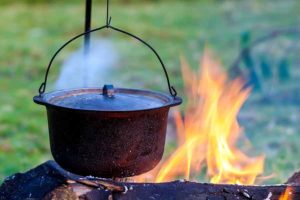 Meet the Chef
Whether you're a chef or not, being able to cook while camping is essential to enjoy your experience. Lucky for us our very own Old Rock Café chef, Randall Spencer, is not only an Eagle Scout but a pro at the Dutch Oven and other outdoor cooking techniques. Your scouts will enjoy this yummy intro to outdoor cooking.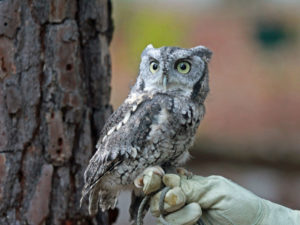 Whoo's That I Hear?
Have you ever been out at night and wondered, "what was that sound?" Sometimes even noises that wouldn't startle us during daylight can spook us at night. Join a naturalist to explore some of the more common, and not so common, sounds you may hear – maybe even during the campout!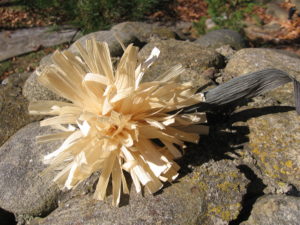 Waste to Wonder
Humans tend to use something once and throw it away, but by repurposing materials we can create something new. Your troop will love getting crafty while learning about how what may look like ordinary garbage can become a treasure.
Programs are specifically designed for scouts. We encourage adults and non-scout kids to enjoy the Park during program sessions.
Afternoon Options
Your admission is good for the whole day, so spare some time to enjoy the Park. You can leave for lunch or do some sightseeing in the Village, just check back in with the Ticket Plaza when you return.
If your troop isn't already Chimney Rock State Park Jr Rangers, make sure to sign them up. Meet with a Ranger from 1pm to 2pm to hear more about what rangers do and to work on a stewardship project. All participants will receive a certificate and patch to take home. This activity is by registration only. Pre-registration for this activity is required and limited to the first 25 scouts.
We'll be opening the 32-foot climbing tower exclusively for Girl Scouts from 12:30-4:30pm. There is no pre-registration required for this activity. However, please know it is first come, first served and weather dependent. There is a 25lb minimum to climb, and waivers are provided and required.
Campout
The overnight option is designed so that you can bring your gear and spend the night at one of North Carolina's most recognized attractions. We provide several community fire rings and wood, but all other essentials are the responsibility of the group.
Typically, set-up begins after 4pm. Depending on the volume of Park guests in the area, this time can be altered a bit. You must be packed up by 9am the next morning, however, you're welcome to stay and explore more of the Park on Sunday as long as your site is broken down.
Price and Registration Info
Scouts: $15 per scout includes admission, all programs, program materials and one patch per scout.
Adults: 1 adult per 10 scouts required and admitted free; $12 per additional adult when registered with a group; otherwise adults are $15 each.
Additional Youth (ages 5-15): $5.50 per youth when registered with group; otherwise $7 each.
Camping: $8 per person to camp; 1 adult per 5 campers is free.
Registration is now open and closes November 1, 2018 ­or when capacity of 200 scouts is reached. Call 828-625-9611 to reserve your spot.