Fall Color Reports for 2021
10/21/21
Fall hues are beginning to arrive in Hickory Nut Gorge. Although it's still spotty, you can see the ridges slowly transitioning to their seasonal hues. As you approach the Park from Hendersonville or Asheville, the road will be lined with changing trees. The vibrant sourwoods have begun to show their bright red leaves, adding variety to the yellowing poplars and purplish dogwoods. Don't be worried you've missed wildflower season, there are plenty still blooming throughout the Park. We anticipate more color arriving daily! 
10/14/21
Chimney Rock is still a couple weeks away from peak fall color. If you're coming from Black Mountain, Asheville or Hendersonville the roads leading in should offer some fall hues, but if you're standing on the Chimney looking out you'll still find a mostly green color scheme. That said, we do have poplar trees yellowing and dogwoods brightening the understory with their reddish-purple leaves. You can still find many wildflowers in bloom continuing to add some interest along your trek. The forecast for the coming week looks like the perfect weather to encourage more color change as the cooler temperatures set-in.
In a greater regional trend, fall color has been delayed this year by warm temperatures and heavy rains. Experts are predicting fall color progression throughout the mountains to be behind last year by about 5 days.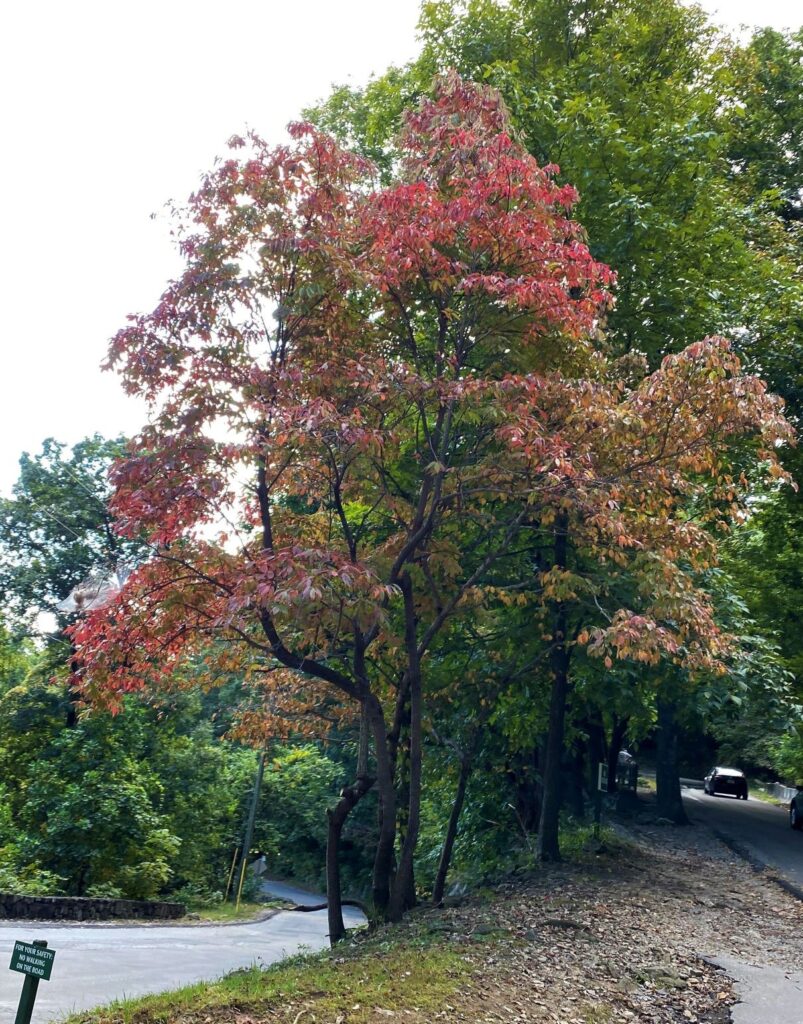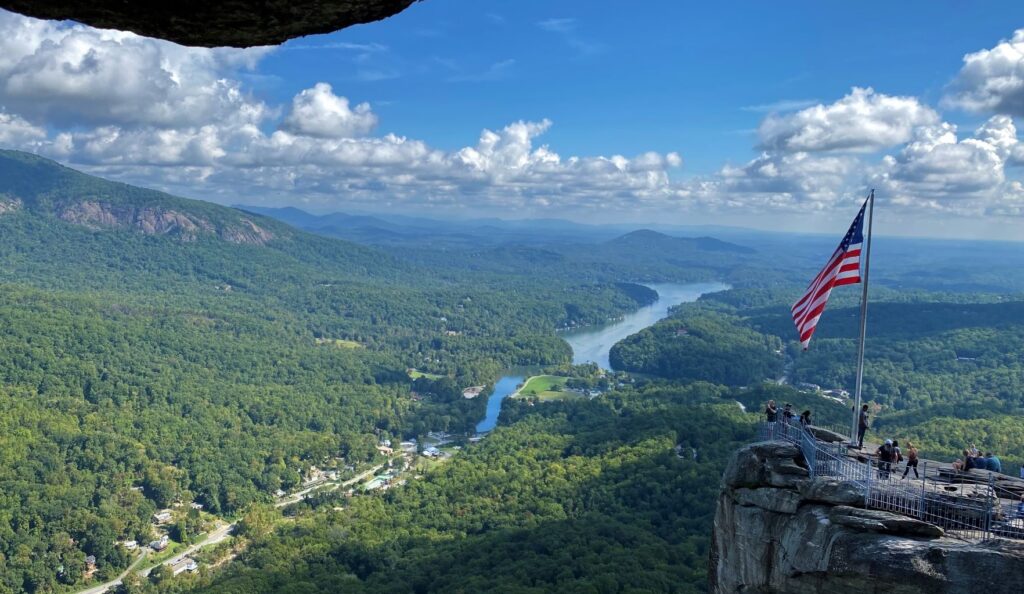 10/7/2021
There hasn't been too much progression from last week here in Hickory Nut Gorge. Recent weather patterns seem to have slowed down the transformation in the area, but you can still find pockets of color cropping up as you look at long-range views of the mountains. As you drive to the Park through higher elevations such as Black Mountain, Asheville, and even Fairview, you may spot more color progression as the fall weather makes its way through the mountains. The view from the Opera Box this week is a little dreary, but it represents the rainy weather we have had for the last five days.
Check back next week for another update. We're hoping for some cooler temperatures and sunny days to help the color look its best!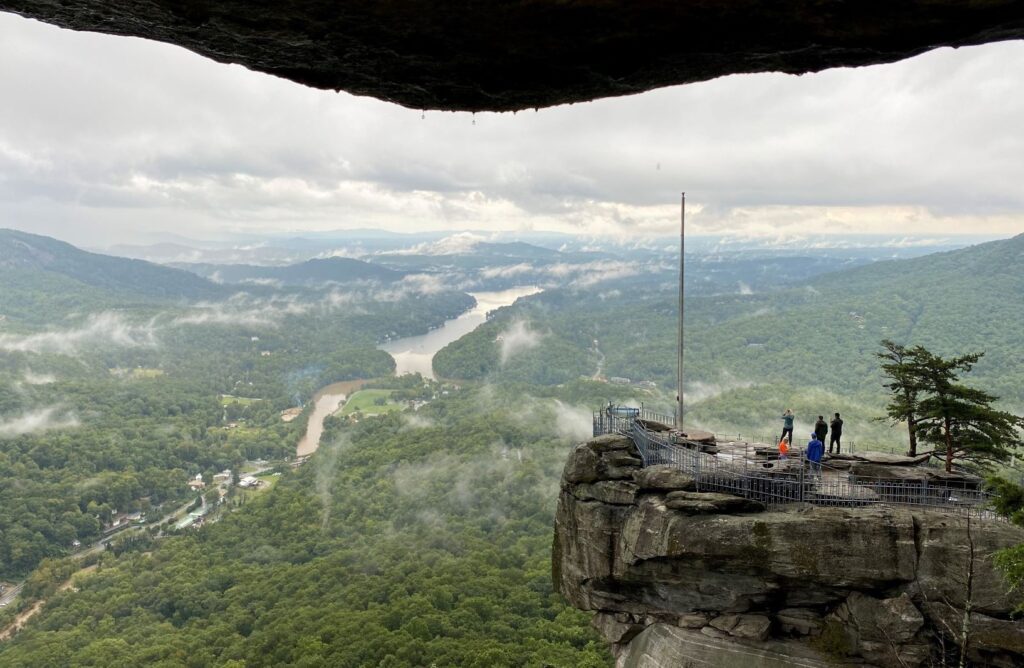 10/01/2021
Peak fall color is still weeks away for Hickory Nut Gorge, and most of our forest is still green. Due to much of the area being lower elevation mountains, we typically see our brightest colors in late October or early November. We're closely monitoring weather patterns to see when we can expect our prime leaf color. However, this is a beautiful time to visit if you want to check out fall wildflowers that bring their own hues to the trails. Hikers will be delighted to find a variety of goldenrods, asters and other fall wildflowers to enhance their hike. Although the major changes haven't happened yet, you may also spot some of our earliest transitioning trees as you glance across to the ridge lines along your trek.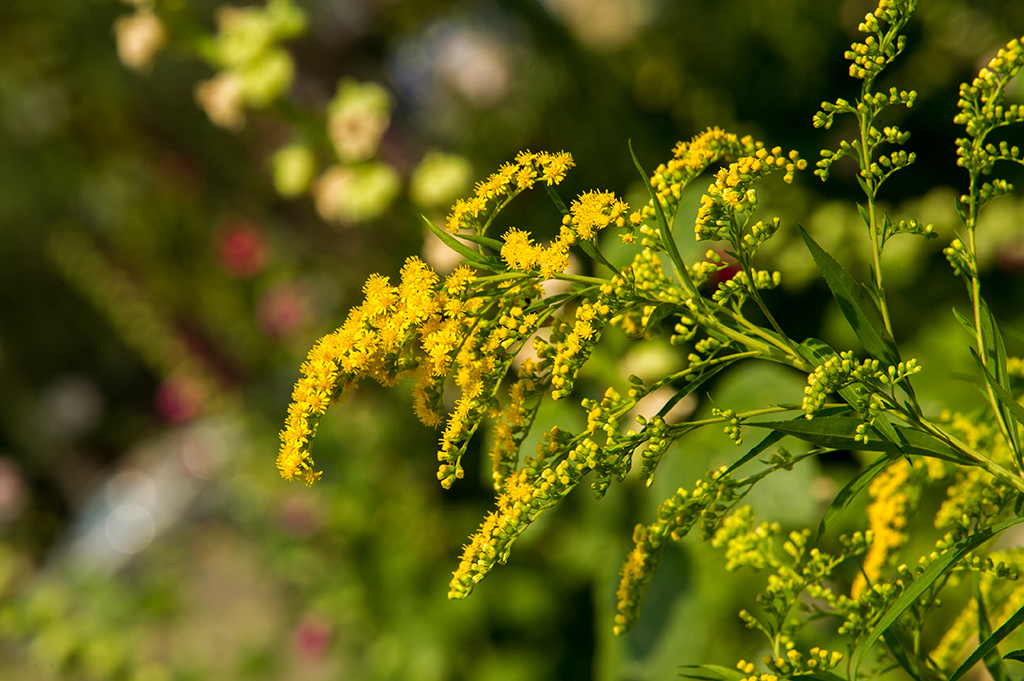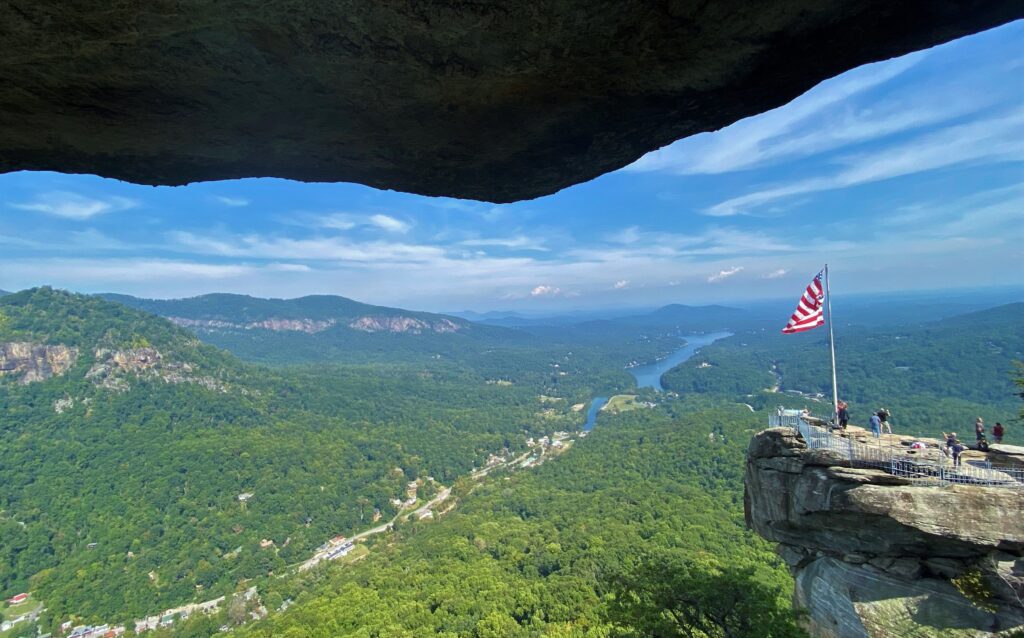 Fall is in the air! Check back here for color updates every Thursday.

We are still mostly seeing the yellowing of poplars throughout these lower elevations, and sporadic dogwood trees can be found changing along the trails and roadsides to their reddish-purple hue. Fall flowers are still in bloom, so don't forget to look a little lower to spot some different fall color.