2020 Girl Scout Day
Fall is a very special time in Chimney Rock. The cooler temperatures, beautiful wildflowers and fall migration are just a few reasons Fall Girl Scout Day is the perfect event for your troop. Join us for a morning of learning, an afternoon of playing and the option to spend the evening beneath the stars.
When: October 3 – 4, 2020
Morning Programs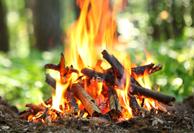 Minimizing Campfire Impacts
This interactive program will help scouts learn more about It's the Year of Fire for NC State Parks! As scouts, you may have made a campfire, but do you know the correct Leave No Trace (LNT) principles? This program will focus on Principle #5: Minimize Campfire Impacts. LNT is a major part of the new Girl Scout Outdoor Badges so this program may even help scouts complete steps toward badge requirements.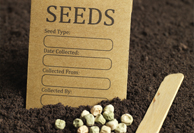 Seeds for Bees
Let's get artsy! After learning about bees and their role in the ecosystem, let's help these hard workers. Scouts will get to create their own seed packets, making them as unique as they are.  Each packet will be filled with seeds to take home and plant for our native pollinators.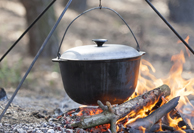 Fireside Cooking
Let's get artsy! After learning about bees and their role in Picture a roaring campfire with scouts all huddled around. The smell of something cooking is drifting in the air. Doesn't that make you hungry? During this session, scouts will learn practical outdoor cooking with Leave No Trace ethics. Afterwards, they'll be able to taste the fruits of their labor. Delish!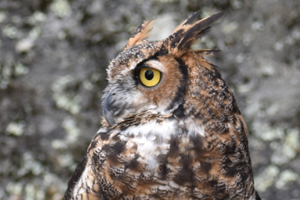 Magical Migration
This interactive program introduces the process of migration and what makes it so magical. Everyone will love learning how species in their own backyard make an incredible journey in order to survive. At the end of the of the session, scouts will put their new knowledge to the test with a fun game.
Afternoon Options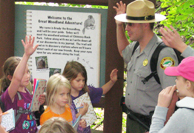 What a Ranger Does
Did you know that NC State Park Rangers wear many hats, literally? This fun program will introduce your Scouts to a day in the life of one of Chimney Rock's Rangers and let them see for themselves what this job entails. Scouts will have the opportunity to begin their journey to becoming a Chimney Rock State Park Junior Ranger.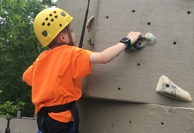 Climbing Wall
Need to get those wiggles out? Our 32-foot climbing wall will be open from 1– 4pm, so your scouts can test their Need to get those wiggles out? Our 32-foot climbing tower will be open from 1– 4pm, so your scouts can test their skills. There is no additional fee for this activity, but lines can get long. Plan ahead! All participants must weigh 25lbs or more and bring their signed waiver to participate. (You'll be sent the form one week prior to the event).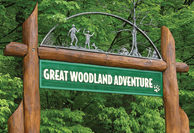 Self Guided Hikes
Hike any of our 6 trails which range in difficulty from easy-to-moderately strenuous. Ask our knowledgeable staff which trail is the best fit for you.
Campout Option
The overnight option is designed so you can bring your gear and spend the night.

We provide several community fire rings and wood, but all other essentials are the responsibility of the group.

Typically, set-up begins after 4pm. Depending on the volume of the general public in the area, this can fluctuate a bit. You must be packed up by 9am the next morning. However, you're welcome to stay and explore the Park some more on Sunday if your site is broken down.

Park staff is onsite throughout the night.
Nuts & Bolts
When: Saturday, October 3 to Sunday, October 4, 2020
Check-in by 9:30am; orientation begins promptly at 9:45am.

Costs: $16 per scout for admission to the Park for the day, all programs and patches. One adult chaperone per 10 scouts is required and is admitted at no charge.
Additional adults are $14 and additional non-scout children are $6 but must be included in the troop registration and payment.
Camping fee is $8 per camper.
Registration: Register your group here. Registration closes on September 24, 2020 or when we reach our limit of 150 scouts.